AVerTV Volar HD Pro

Published Aug 13, 2010 Author
petew
Review controls
Although not a particular TV addict there are times when it's good to be able to tune in. This natty little USB receiver from AVerMedia allows you to so do while on the move.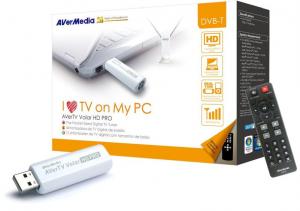 click image to enlarge
The AVerMedia Volar HD Pro is the size of a traditional USB memory stick. One end has a standard USB plug while the other has a standard TV aerial socket. Included with the receiver are a small dual rod antenna, remote control, quick installation guide and CD containing the tuner and video recording software (PVR).
Signal strength in our area isn't great however I have to report very little success with the built in aerial. This is in part a standard problem for digital technology over the older, more reliable analogue variety. With analogue signals even with low signal strength you can usually get a picture, even if not very good. With digital you get nothing. I did manage to tune into around 8 stations upstairs but this required the aerial to be carefully stuck to a window. The aerial has a 1m lead which does restrict placement. I did try plugging in an older good quality portable analogue TV aerial into the receiver but this provided no reception at all. The bulk of this review is carried out with the receiver attached to a standard external TV aerial.
The device and accompanying software provide a single channel DVB (Digital Video Broadcast) receviever capable of tuning into both standard and high-definition Freeview broadcasts (supporting H.264 / MPEG-2 HDTV formats up to 1080i / 720p). As well as receiving broadcasts the software provides a couple of functions common on digital video recorders. Timeshift or 'pause live TV' and scheduled programme recording.
There are several benefits of using a PC as a hard-disk video recorder. One is that you get to choose the size of the hard-disk and can upgrade the disk or switch to a new machine with larger capacity. Another is that the resulting videos are stored in 'standard' formats - in this case MPEG4 - with an option instead to automatically record in an iPod compatible format. You can also then use standard backup tools to archive your video collection - anyone that's used a standard HDD video record and had a disk fault will appreciate this! Once you've built up your library you can also share these across your home network with ease.
The video software provides all the 'standard' digital TV features, although I found some of the implementations a little frustrating. In particular the Electronic Programme Guide (EPG) can frustrating. While this gives a standard list of stations and programmes it does not allow you to tune to a particular station - all you seem to be able to do is schedule a recording. Indeed the only way to move between stations appears to be using the up/down channel selector or by entering the station number on the remote control. Ther EPG also is not available if the software is recording or the programme is running full screen.
Despite some functional limitations I was very impressed with the quality of the product and of the software. I'm so used to most software crashing at least a few times during use I'm very impressed to report that in this case I had no problems at all, either with installation or with operation.
Priced at £34.99 from Amazon, including free delivery, this is a great product for those that want to watch TV on the move, although do bear in mind variable signal strength of DVB at the moment. It's also an ideal product if you want an inexpensive way to build a HDD video recorder using your laptop or PC.