Canon EOS 1000D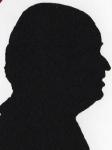 Having just reviewed the excellent EOS 450D (29-08-08) I was more than chuffed to be offered the very new EOS 1000D. At this time of year everyone wants to tell you about what they have to offer for Christmas are you listening Santa?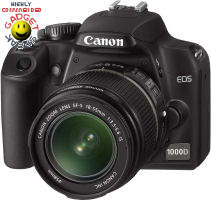 click image to enlarge
It is 12x8x9.5cm, add the 18-55mm lens and this adds up to another 7cm to the second figure the width.
The main difference between reviewing a digital camera and a DSLR for me is that the manual is essential reading. With a multi language digital you might get a dozen pages in English and what they have to say you probably knew anyway. Here it is 196 and all in English and unless you are a professional photographer I doubt that you could claim I knew that most of the time.
Some dealers now sell DSLR cameras with a lens but remember for all situations you are likely to need several however an 18-55mm offering will cover general situations and that is what I was sent here. The weight now is around 720 grams.
Unless you are an expert I would suggest you start in full auto mode with the two settings on the side of the lens Stabilizer on and Auto Focus on. Now with a few twists of the lens whatever shows in the viewfinder should be a perfectly acceptable image. Only when you are sure that the 196 page manual has been read, re read and thoroughly digested should you venture to seriously trying the other eleven settings on the choices wheel. Unlike the 450D that I had for a good time I was restricted to a week with this. Luckily I had the manual with me when on one of my three image taking trips out I was met with a problem. I wanted to take some images in a church but flash photography was frowned on I could turn the flash off in manual mode but full auto mode decided that flash was required even when I had the unit supported, luckily I had time to read up and find out that there is a mode and how to enter it. This is a prime example of why the manual should always go with you until you know it all.
To try to simplify what is not a simple subject every setting on the wheel above the Full Auto are the Creative Zone and you probably need more knowledge to use these. Every setting below needs some extra knowledge but you still let the camera make most of the decisions and it is called by Canon the Basic Zone and sure enough there is where I found the flash off option along with Night Portrait, Sports, Close-up, Landscape and Portrait.
The other settings in the Creative Zone are Program AE, Shutter-priority, Aperture-priority, Manual exposure and Automatic depth-of-field. Unless all these are subjects you are totally clear on read the appropriate sections in the manual before you do more than take test shots in those modes.
Even in Full Auto or any of the Creative Zones you will take images with more depth and sharpness than any standard digital camera however good a photographer you are. The built in flash will pop up from its position on top of the unit and while you will need to push it back in once you have taken your images the reason is to get the greatest possible distance from the flash to the lens for the best image. Here this can be up to 11cm something do digital camera can ever dream of. It means what fades into the background at less than three metres with a good digital camera is still sharp at five metres here.
Of course as you progress with extra lenses for added situations you probably purchase an external flash shoe and there is a mounting on the top of the camera for this and that raises the flash even further from the lens.
I cannot do justice to a camera like this in a week (probably not even a month) all the images I took were as good or better than I hoped even those without flash in the church as I has the camera on a solid surface. So Santa if you are reading this yes please.
Doing my Internet searches for the Canon EOS 1000D found it at a best price of £329.99 from the first link below. This includes 2GB card and a case but no lens.
www.bestcameras.co.uk/shop/acatalog/Online_Catalogue_Canon_Eos_1000d_body__69.html
http://www.amazon.co.uk/gp/product/B0014IK7QO?ie=UTF8&tag=gadge0a-21&linkCode=as2&camp=1634.
The link above includes an 18-55mm lens and free delivery for £375.98
http://www.canon.co.uk/For_Home/Product_Finder/Cameras/Digital_SLR/EOS_1000D/index.asp