Polaroid Definia Digital TV Range

Published 25 Nov 2007 Author
petew
Polaroid is a name traditionally linked with instant film and sunglasses. They have however been at the forefront of a number of technical developments over the years. Now they are capitalising on that heritage to enter the high-definition TV market.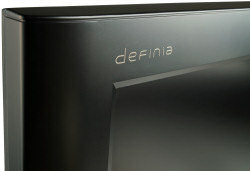 We'll be taking an in-depth look at Polaroid's Definia Range in December. This is a little sneak preview of the Polaroid range.
Paul Smart recently took a look at Polaroid's range of analogue tuner LCD televisions and was impressed with the results. The Definia range take that core technology and integrates a digital (Freeview) tuner. Right now that means you can attach your existing aerial to the TV and immediately benefit from 'DVB' (Digital Video Broadcasting) without having to purchase a separate Freeview tuner. The integrated tuner gives you access to a full seven day Electronic Programme Guide (EPG).
Given that the range has no analogue tuner, it's probably a good idea to check digital reception in your area before buying!
Current screen sizes are 32", 37" and 42". Each come with an stand that you can use, or alternatively the units can be wall mounted.
The entire range offers 16:9 wide-screen aspect rations and are 'HD Ready', meaning they have the resolution necessary along with the required inputs to connect in a high-definition source. Sky currently offer a HD broadcast service, the other sources being the latest generation of HD and Blu-Ray DVD systems.
For those of you that have or intend to get a media-centre computer as part of your entertainment system, the Definia range provides a good selection of input including VGA, s-video and HDMI.
The Definia literature covers a number of digital processing technologies to enhance the viewing experience including '3D Comb Filter Technology', 'True Life Sound' along with video processing and video noise reduction. Do these work? Are they better than that offered by other manufacturers? We'll have the answers in our hands-on review coming in the next few weeks. In the mean time there is plenty of information on the Definia range available from a dedicated web-site put together by Polaroid :
http://www.polaroid-definia.co.uk
The Definia range are currently available exclusively through Currys in the UK :
Those prices included standard delivery for free, which is worth noting for something as heavy as a TV!
If you take a look at the Currys web-site though - I'd recommend ignoring the product technical specs, which claim that these LCD TVs are neither flat screen nor wide-screen (which they are) nor have an on-screen display!