Manfrotto ProField Jacket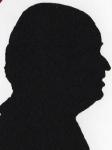 Review controls
I recently spent a couple of hours at the Broadcast Video exhibition, a great deal of what was on show was very expensive Broadcast equipment but then some stands had almost the opposite. I know Manfrotto for various photographic accessories. I have reviewed portable flash units, tripods and monopods, here something different.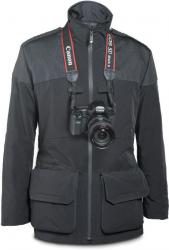 click image to enlarge
Walking by their stand I saw a clothing rail with a several reinforced jackets and for want of a better word waistcoats – jackets without sleeves – all seemed to be toughened with Kevlar. I asked surely you are not producing these for war zones, I was told no just for normal photographer use. I know some fashion shoots can get tough and of course those photographing Celebes must expect the odd bodyguard to get a bit physical.
However I asked for one so anyone you is more than a digital camera 'point and shoot' person can carry all their kit.
As regular readers will know due to a couple of serious illnesses I have lost a fair bit of weight over the last year or so. I used to be a definite XL verging on XXL, now dependant on the garment L to XL so I choose their XL.
It's snug so if you are more than ninety kilos I would suggest you go for XXL. Certainly it will keep the top half of your body dry in all but a monsoon. More importantly the multitude of pockets will keep various lenses and other bits such as spare batteries dry and ready for use.
It comes with a full length zip and starting from the collar around 6cm flip up. Both shoulders are padded and also have Velcro flip straps so a camera bag can be attached under to give it extra security to stay in place.
Moving down to the chest there are extra flaps that expand, these conceal zips to external pockets the left one – over the heart - even has a small wallet type pouch on a retaining strap that unrolls to show spaces for numerous cards both or SD and larger types such as Compact Flash. This is all in an elasticised roll that protects them from both the wet and damage. The other pocket on the right side is amazingly capacious unzip to 15cm and has a 15cm depth.
Now down to the waist and a pocket on each side that comes zipped up around the left side base and right side and when unzipped reveals a pocket that is more like a bag at 15x20x20cm and needless to say can take lots. Zip it up when you have little in them and again it looks just like a near normal waterproof jacket with the exception of the large flaps, the inside can be made smaller if required by elasticized toggle to hold say a lens in place.
Moving to the inside it has pockets on sides where inside pockets would be on a normal jacket and a 15cm zip across pocket on the left side near the waist. The right side is divided into two one called a Compact pocket and the other a DSLR pocket these are not for the cameras but for small tripods.
The sleeve ends are elasticised so they grip the wrists to stop weather penetrating and the back has a belt should you need to pull the jacket in if you are lucky enough not to fill it as well as I did.
Not satisfied? It also has a detachable – Velcro Straps – additional pocket or pouch this is especially well padded. The jackets fabric is called Yushana, the zips are AquaGuard and are themselves water repellent. There is a card with the normal warranty conditions – two years normal wear – whatever that may mean but perhaps for those like me who have never owned such a jacket a page of illustrations to explain it many and varied pockets.
I see from another label that the jackets are available in XS, S, M, L, XL and XXL. Now by now you know this will not be cheap but the stretchable material being waterproof in the extreme so it is all weather and wind resistant with lots of storage for everything but it is still breathable. The stated likely price on the Manfrotto site is just under £300, very little less at £298.95 from the first link below including delivery.
http://www.amazon.co.uk/gp/product/B004RCNS1A?ie=UTF8&tag=gadge0a-21&linkCode=as2&camp=1634