Sony NEX-C3K Digital Camera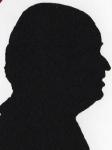 Review controls
The Sony NEXC3KB is described as an Interchangeable Lens Digital Camera, what a lot of people would call a DSLR, it is small and easy to use but still has most of the ability you would expect from a DSLR unit, meaning excellent images.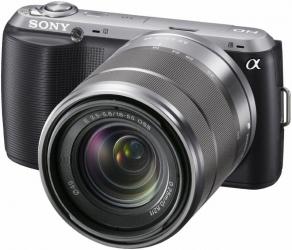 click image to enlarge
Before I go on to describe this rather neat small unit there is one thing that dissuade some from buying it. While it can capture both RAW and JPG images (at the same time should you wish) it does not have any 4:3 options.
Your choices in a range of capture sizes are either 16:9 or 3:2 so should you want to print an A4 image you will need to think before you capture about how you frame your shot. In figures that allow this a 4:3 is 16:12 while a 3:2 is 15:10 and 16:9 is just that, while most printers give a full A4 image from 4:3 moving back and widening the field is probably the best way to still capture such an image, of course for display on TV 16:9 is ideal.
It is 11x6x13cm, the last figure is with the 18>55mm lens fully extended (10cm fully retracted) and the second figure the height without the flash module attached, when attached and raised it adds 4cm to the overall height.
The left side has an anchor point for the supplied neck strap although to be honest I was happiest holding this small unit, this side also has doors covering HDMI and USB sockets, both of the mini kind. The base has a tripod screw and two doors one to insert any SD card you might use behind and the other for the solid battery.
The right side has the other neck strap anchor point. The front has the Sony optical steady shot lens 18>55mm and this uses the Sony E-mount. It also has the flip up flash module that can never be nearer than 6cm behind the lens and could be up to 9cm behind. The two controls are the play mode button and the shutter release that has on/off switch surrounding it.
The back has the TFT screen 6.5x3.8cm it looks larger as there is a black border, the screen can be viewed either flat to the back, slide up from the bottom to point 45degrees down or pivot from the top to close to 90degrees.
There is a movie button on the right top edge and below this to the right side of the TFT two soft buttons and the ubiquitous five position joystick control that guides you through the menu structure of the NEX-C3 camera.
This 16.2MP unit has six image capture sizes three sizes in 16:9 mode simply called L, M and S these are 14MP 7.1MP or 3.4MP, with anyone wanting to print an A4 image I would normally say the 'S' mode would be enough but you need to capture more than you need to get to an A4 image so go for 'M' and don't capture to tightly. In 3:2 mode you also have three sizes also called L, M and S, these are 16MP, 8.4MP and 4MP. However each of the sizes mentioned can be captured in RAW, RAW&JPG, fine or what is called standard.
This only scratches the surface of this unit, it can capture in 3D (providing you have a 3D TV) it has a rather nice panorama mode and of course can capture video up to HD. For those beyond Intelligent Auto then Scene, Picture Effect, Anti Motion Blur, Panorama in both 2 and 3D, manual exposure, shutter priority, aperture priority and program auto are just a turn of the joystick control away.
Other lenses are available but I reviewed the 18-55mm lens kit with the flash module, to me it's a DSLR to Sony it's an Interchangeable Lens Digital Camera.
It takes rather nice images in all modes, the flash was excellent and if you are out for a day its easy to remove and place in its case to make the camera even more compact.
Doing my searches found the Sony NEX-C3 at a best price of £399.95 including free delivery.
http://www.amazon.fr/gp/product/B004MKNBQO?ie=UTF8&tag=gadge04-21&linkCode=as2&camp=1642