Sanyo Camcorder/Camera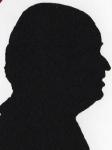 Review controls
While most recent camcorders can take still images and almost all digital cameras have a movie mode this offering from Sanyo really does combine the two items in one casing, so is the camcorder/camera the way to go.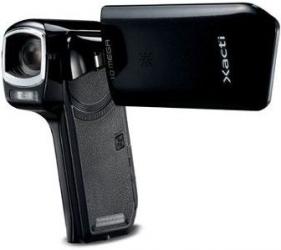 click image to enlarge
The Sanyo Xacti is designed to be gripped in the fingers with the thumb pressing the shutter and joy of joys – for the left handed – it can be used in either hand. It is 12x7x4cm and weights 187grams. When shooting with the side mounted wide screen display fully open this adds 9cm to the 4cm width.
The base has a joint USB&A/V socket as well as the tripod screw. All other controls are on the back of the unit near the top and able to be reached by either thumb.
The unit has two distinct modes video marked with a red video camera and still with a white camera image these two buttons are split by the telephoto/wide angle rocker control. Below this the ubiquitous five position joystick control and to the right of this the shoot/replay button. Below these is the menu button. Towards the base of the grip is where any SD card is inserted. The outside right side comes off to reveal the solid battery that needs to be removed to charge it.
Open the display (this can be rotated through 270degrees) and that finds the on/off button. The display is 6.7x3.8cm which corresponds to 3inches diagonal measurement.
The photos it can take are 12MP 4000x3000, 10MP 3648 2738 in two compression modes high and standard 7.5MP 3648x2056 which is 16:9, 2MP 1600x1200, 0.9MP 1280x720 which is 16:9 and VGA. Anyone used to the half press capture from most digital cameras will need to think as you frame and press and the image is taken unless a good deal of care is taken to only partially depress the still camera icon and wait for the framing to take place.
I would still call this a 'camcorder/camera' and press the red camcorder button and you have three Video capture choices 1280x720@30FPS, 640x480@60FPS or 640x480@30FPS, this button can also be used for a voice only capture mode all the options are accessible from the menu screens.
There is a Quick Guide in multiple languages that just about tells you how to capture and display a video and photo. However the 200 page instruction is a far better proposition and this is among the better manuals I have read.
I took a range of still images as stated some work is needed to perfect this and flash can be off, automatic or forced. A 10MP image can be up to 3MB of hard disc space according to content. Using it a voice only recorder was rather good it produces files with an M4A extension that can be replayed using Apple Quick Time on a PC a 30second clip is around 600k. Finally a six minute video MP4 format again playable using Apple Quick Time takes around 400MB of space. Quality of all was more than acceptable.
I played the video back not only on a PC but also on a TV using the lead provided and was perfectly happy with the quality.
Overall quite a nice effort to create a camcorder/camera. However the SD card door was fiddly and on occasion flipped open of its own accord and with its place on the arm this could be a weak point. A number of these sort of units provide software to enable you to upload to You Tube and perhaps more important for private sharing where the compressed video resides on a server and anyone you send a link to can download it, this facility is not provided with this unit, if it was then I feel it would be worth a slightly higher smiley rating.
Doing my Internet searches found the Sanyo Xacti Camcorder/Camera at a best price of £168.98 from the first link below. This vendor is selling it with a case and a 4GB SD card.
http://www.amazon.co.uk/gp/product/B002LJ04X6?ie=UTF8&tag=gadge0a-21&linkCode=as2&camp=1634
The Sanyo Xacti Camcorder/Camera is available for $167.49 including free delivery from Amazon on the first link below.
http://www.amazon.com/gp/product/B001Q3M8S2?ie=UTF8&tag=gadge0a5-20&linkCode=as2&camp=1789
The Sanyo Xacti Camcorder/Camera is available for €167.40 including free delivery from Amazon on the first link below.
http://www.amazon.fr/gp/product/B001SAMTLY?ie=UTF8&tag=gadge04-21&linkCode=as2&camp=1642