FujiFilm Fine Pix S100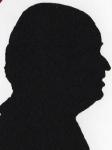 Review controls
This looks very like a DSLR but it isn't. In some ways it's a poor mans DSLR accept that the lens is fixed but what a lens and it has over 14x optical zoom. The other big bonus it is a lot cheaper than a DSLR.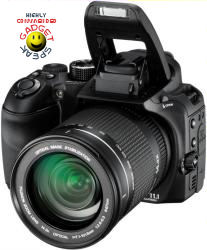 click image to enlarge
It is 12.5cm wide 9cm tall and between 15 and 21cm wide dependant on where the lens is. It is not light at 970grams. So the neck strap is all important, in fact it will look exactly like a DSLR but it will cost a great deal less.
Anyone who has focused using the sides of the lens on a DSLR will love the fact that's exactly what you do here. Most DSLR come with the basic 18-55mm lens and should you require more that's another lens to carry around. Here the built in lens goes from 28-400mm and should maths not be your forte that is 14.3x zoom. In fact a DSLR in all but name, my one gripe about recent FujiFilm offerings using 'AA' batteries is dealt with here as you have the more normal Lithium Ion battery you would expect in better cameras.
I am not going to mention any of the nineteen buttons or any of the eleven positions on the wheel look at the site and salivate by yourself.
There is a 5x4cm TFT display but there is also a viewfinder for those shots in difficult light that need to be guessed at when there is only a TFT. There is a 180 page manual that covers everything this has plenty of illustrations so nothing needs to be guessed at.
For the novice turn the wheel to Auto and focus using the side of the lens and let the camera do everything else you will not be disappointed. For the more experienced let me say Dynamic Range up to 400%. Film simulation modes Velvia, Provia and Soft. Macro down to just 1cm. No dirt or dust on the lens because it is not removable. 3 frames a second at the full 11.1 mega pixel and 7 frames a second at 3 mega pixel. The TFT is not fixed and can be tilted 90 degrees upwards and 45 degrees downwards as it flexes on two arms. Shutter speeds that vary between 1 4,000 of a second up to 30 seconds. Output in RAW. Movies at 30FPS (audio keeps in sync). Now go and wipe your face. Of course it has face detection and image stabilization.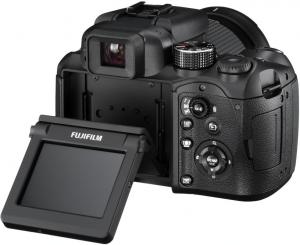 click image to enlarge
Not only does it take SD cards both normal and SDHC but also xD. So for still images card sizes of up to 8GB are supported. In the top resolution 3840x2880 you can save in RAW JPG fine and JPG normal. A 1GB card would store around 42, 181 or 362 images. 4032x2688 (3:2) JPG 368 images. 2816x2112 JPG 666. 2048x1536 JPG 1214. 1600x1200 JPG 1511. Finally VGA 6196. In movie mode 640x480 at 30FPS 14.5 minutes while QVGA at 30FPS 28.6 minutes.
Of course all cameras assume you are right handed, even without the neck strap it can be held comfortably in the right hand as there is a great finger grip leaving the thumb clear to operate the shutter. Your left hand is used to adjust the lens and this of course helps carry the weight. As stated it has image stabilization but having both hands on the camera gives a good balance so with the stabilization even when on high zoom the image is clean and crisp.
The flash flips up and is between 10 and 13cm from the lens giving a good result and far better than most cameras in terms of distance I got good images up to around 4 metres (most cameras tend to lose things in the background at less than 3 metres). For those taking movies the ability to use SDHC cards means that close to two hours at 30FPS can be stored on a single card. However note that you will need to restart the recording once it reaches 2GB in size so in the example given using an 8GB card that means about every half hour.
Having the ability to take RAW images on a non DSLR unit is a plus as is the super macro mode that can be as close as 1cm. Normal macro mode is as close as 10cm. Great images and good movies, this unit is the closest thing to a DSLR without it being one.
Doing my Internet searches found the FujiFilm FinePix S100FS at a best price of £399.99 including free delivery from the first link below.
http://www.amazon.co.uk/gp/product/B001523GBC?ie=UTF8&tag=gadge0a-21&linkCode=as2&camp=1634
Doing my Internet searches found the FujiFilm FinePix S100FS available for $615.99, including delivery from Amazon on the following link :
http://www.amazon.com/gp/product/B0012Y541S?ie=UTF8&tag=gadge0a5-20&linkCode=as2
Doing my Internet searches found the FujiFilm FinePix S100FS available for €553,45, including delivery from Amazon on the following link :
http://www.amazon.fr/gp/product/B001523GBC?ie=UTF8&tag=gadge04-21&linkCode=as2&camp=1642
Information from the FujiFilm site :
http://www.fujifilm.co.uk/consumer/digital/digital-cameras/d-slr-long-zoom/finepix-s100fs/View