FujiFilm FinePix S1000fd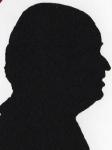 Review controls
This looks like a small DSLR (Digital Single Lens Reflex) camera while is not it does have a range of features such as a decent continuous shooting mode only normally found on DLSR units.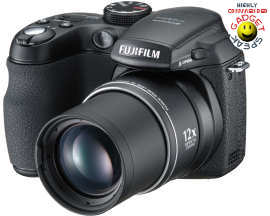 click to enlarge
It is 10x7x7cm when switched off, the lens can jut out by another 3.5cm. It is of course black and it weights around 360grams with - shock horror - the supplied 4x 'AA' batteries inserted. It is supplied with a neck strap partly as most wrists would soon get tired with that weight and probably partly as DSLR units always come with neck straps.
This is a 10MP unit with 12x (yes 12x) optical zoom. While a lot of small digital cameras have more than 10MP few others - if any - offer 12x optical.
I had this camera for only a short test period so even though I used it a good deal there were still many situations I would have liked to use it in that were not possible.
The flash is a manual pop up that raises it more than 3cm above the lens and up to 6cm behind it. I only took a few flash images and these were fine. All cameras seem to assume you are right handed and although I am left handed I have long adapted my natural state to use cameras and even mice with my right hand. This has a lovely solid grip with a full 3cm indent between the battery bay and the lens, the thumb sits nicely on the back of the unit and then folds over to use the shutter.
The back is dominated by a 5.5x4cm TFT but joy of joys for those who were brought up with 35mm cameras there is also a viewfinder and should you use this (a button switches between the two) the batteries will of course last longer. The back also has five well labelled buttons and the ubiquitous five position joystick.
The top has the button to flip up the flash (takes a bit of adjusting to) a ten position wheel an on/off slider two other labelled buttons and the telephoto/wide angle slider around the shutter. The anchor points for the neck strap are on each side with a well concealed door on the right side for A/V out. The base has tripod screw and battery cover for the 4x'AA' batteries and the dual - yes dual - card slots. Fuji and Olympus have long championed xD cards and while I have reviewed another unit that had dual inputs this was for xD and Compact Flash or Micro Drives when capacity for cards was a lot smaller. This unit supports xD and SD. When I say dual slots it only has a single slot but it accepts either media but the rather nice 164 page instruction book all in English warns about trying to use mini or micro SD cards in adapters.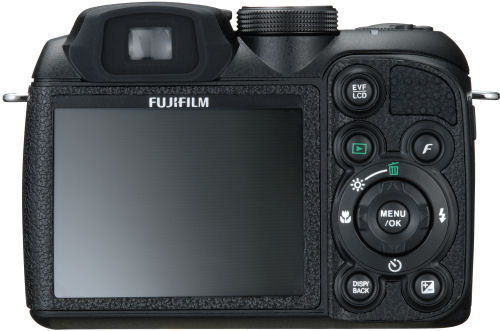 click to enlarge
The mode menu is entered by using the 'F' button on the back of the camera and from there you can select any on the seven shooting modes available 10MP fine, 10MP normal, 3:2, 5MP, 3MP, 2MP and VGA this screen also tells you how many images of any type you are likely to able to capture on the card you have inserted.
I was amazed by the continuous shooting mode (or should I say modes as I believe there are five available) the one I tested most fully is where you have five images taken in quick succession while you hold down the shutter great for any fast moving action and the images are taken in 5MP mode whatever the setting might normally be for standard images but this needs to be set each time you want continuous shooting.
I would have loved to have used this unit for a month as there are lots of features and functions I had no time to test. Main drawback is that is uses 'AA' batteries. Images both movie sound and vision and still were superb, the 12x optical was excellent and this camera even at high zoom suffers less from shake than a lot of others.
Doing my Internet searches found the FujiFilm FinePix S1000fd at a best price of £239.99 including free delivery two SD cards, high power rechargeable batteries with a charger and a leather case from the link below, mind you that's what it should have had from the factory and not just from an Internet retailer, other manufactures note.
http://www.greatdigitaldeals.co.uk/product_info.php?cPath=4_8&products_id=1152
Alternatively - Amazon sell the basic Camera for £153.39 including delivery, and as low as £144.95 from one of their partners. Details on the following link :
http://www.amazon.co.uk/gp/offer-listing/B00152A06G/sr=8-1/qid=1213223240?condition=new
The FujiFilm FinePix S1000fd for €241.40 including delivery from Amazon France on the following link :
http://www.amazon.fr/gp/offer-listing/B00152A06G
The FujiFilm FinePix S1000fd is available for $218.98 including free delivery from Amazon on the following link :
http://www.amazon.com/gp/product/B0011ZK6ZM/002-3744963-2835211
http://www.fujifilm.co.uk/presscentre/news/index.php?id=1363 this link to the UK fujifilm site gives lots of technical details and shows other features I could not cover.