Canon Pixma MX535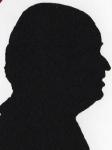 A four in one unit as it has fax as well as printing, scanning and copying ability. This is quite a sleek unit but as its black it is unlikely to pass the lounge police so having Wi-Fi as well as USB could be a benefit as it could sit behind the sofa.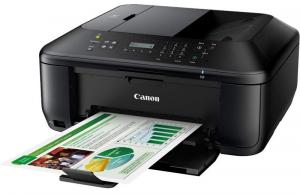 click image to enlarge
The Canon Pixma MX535 measures 43x44x18cm with paper in the drop down input tray. For those wanting to print the odd page you have to remember to open the paper output tray at print time or you get an annoying message to remind you to do so. This would be no problem for most but when you see a lot of different unit some open automatically and some you need to do so manually.
This unit has both a sheet feed and a flatbed for scanning with the units control panel being the on top type so when you raise the cover of the flatbed all the controls and the small two line display are also raised.
There are a total of 25 buttons and 2 LEDs along the front edge of the cover with the 3.5x1.2cm two line display to the left of the centre, this is black on grey so not always an easy read.
As this unit is Wi-Fi as well as USB it can easily be shared by both PC and non PC devices using Pixma, Google Cloud and Apple solutions.
Gone – thankfully – are the days when you print some pages and then scratch your head as to why your results vary so differently to those claimed. Yes the print timings are done using 'Draft' mode the fastest but even these are black and easily read. So when they claim close to 10PPM in monochrome and 5.5PPM in colour you know it will be achievable.
The colour claim of close to 4PPM for a mixed page should be possible. The only photo printed page I could see was the 15x10cm borderless one of 46seconds.
My own tests printed an A4 page on photo paper in 210seconds which is more or less four times that of a 15x10cm image so that's about right. I always use photo paper and the 'Best' printing quality for photographs and borderless.
For those that need fax it is available but with email being perhaps more immediate than a fax that is more popular. Most 'fax' communications I get in my inbox get deleted as they are most likely a virus, anyone who sends things without a good explanation as what is meant to be in the 'fax' never get read.
Copying is done without a PC needing to be on or even connected, size can be reduced to 25% or increased to up to 400%, multiple copies are also possible.
Scanning should be possible to initiate from the unit or from the PC I find that from the unit works well if it's a straight PDF, JPG or OCR for more complex options the Image Garden software supplied by Canon and installed with drivers etc has all the answers.
This is a four ink – two cartridges – solution and I was more than happy with the photos I printed. When shipped the unit comes with cartridges that contain around 1/3 the ink of replacements.
The Canon Pixma MX535 is available from the first link below for £89 with free delivery.
http://www.amazon.co.uk/gp/product/B00I7QIHYU?ie=UTF8&tag=gadge0a-21&linkCode=as2&camp=1634
http://www.canon.co.uk/printers/inkjet/pixma/pixma_mx535/#p-specification3