HP OfficeJet Pro 6830e All In One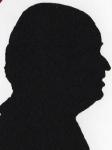 This is actually a multi-function device as not only does it print, scan, copy but it also has fax. HP call it an All In One so that is why I must also. The OfficeJet series are designed for office use but assuming the slate grey colour passes the lounge police…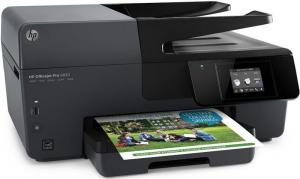 click image to enlarge
The HP 6830 Officejet Pro All-in-One Printer measures 43x41x21cm these figures are with leads inserted in the rear but you will need a little extra space above if you use the flatbed rather than the sheet feed to scan or copy.
While you can purchase this for under £100 it has a big selling point for those who need value it is stated to have running costs of 50% of lasers.
It can be connected via Wi-Fi or USB.
Any leads you use, power, USB, phone/fax are attached back left.
Front left is the on/off button are near this is a USB stick connection point.
The good sized multi sized paper input tray (stated at 225 sheets) does protrude from the front but this is included in the dimensions given.
The 5.5x4.3cm display is mounted within a larger area fixed at a 45degree up tilt. The the left of the window are home, back and Wi-Fi lights.
On top of the unit is a sturdy ADF (Auto Document Feeder) which is stated to hold up to 35 sheets.
Like most recent printers this unit supports printing from mobile devices.
The stated monthly duty cycle is a huge 15,000 pages but the recommended is to print between 200-800 pages and scan 50-150 pages.
The stated print time is as little as 14 seconds provided you are starting from standby, this can be up to around double that from switch on.
Any PPM (page per minute) figures are now likely to be accurate as all manufactures have to tune their units to the same ISO sheet. However please be aware that printing a single page will not be at a fraction of the stated. For instance up to 18PPM in black is stated and this would be achieved by printing the document 20 times and ignoring the first and last page. The stated figure of 10PPM in colour is achieved by printing 12 times and ignoring the first and last. So while you may think 1/18th of a minute it will be closer to 15 seconds. All the tests are conducted in Draft mode, Normal and Best figures will be a lot slower. However Canon draft prints are clear and black and not grey as with some other manufacturers unit.
Scan resolution is up to 1200DPI, Fax is at 300x300DPI and 10PPM should be achievable in black when copying.
In use the power requirements are up to 25watts and just over 1 watt in standby. Further details are available from the second link.
The HP OfficeJet Pro 6830e is available from the first link below for £99 with free delivery.
http://www.amazon.co.uk/gp/product/B00MUKPOM2?ie=UTF8&tag=gadge0a-21&linkCode=as2&camp=1634
http://store.hp.com/UKStore/Merch/Product.aspx?id=E3E02A&opt=A80&sel=BPRN