Brother Business Smart MFC-J5720DW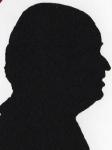 This is a true A3 printer as well as a unit that scans, copies and faxes, it prints A3 from within the outline of the machine yet is a good deal smaller than you would expect as paper is stored in landscape rather than portrait format.

click image to enlarge
It is 47x35x30cm only a tiny bit larger than most A4 units and remember this can store A3 paper within the unit, the secret is that the unit stores in Landscape format – don't worry it still prints in portrait – with the page appearing sideways has another advantage in that it needs less space in front for paper to appear.
You have two good sized paper input trays, both can be filled with A4 or one with A4 and another with a different size each time you remove a tray and replace it you are asked what size paper. For A3 printing the upper tray expands to allow for this size, note that it prints A3 and not A3+.
My supply of A3 paper is very limited but I did test it and it works fine with the drawer expanding and contracting easily.
The controls are at the top of the front on a lift up shelf from the top that can go up to 45degrees from horizontal so are viewable from most angles. Everything apart from on/off are touch controls. The shelf is 22cm long and 7cm wide. The TFT sits just left of centre and is 8x5cm. It has three distinct horizontal areas, the centre one scrolls, the normal display is Fax, Copy and Scan, but a flick changes that to Photos, Web, Apps and finally A3 Copy Shortcuts.
Everything is easy to read and touch brings up everything without problem.
I am not going to mention print speeds etc as with the modern testing methods the figures are accurate, however always bear in mind that a single sheet will take a lot longer than the figures quoted as they never take into account switch on and warm up times or the dead time from sending to the page arriving.
Apart from a flatbed this unit also a fifty page ADF unit that folds away when not in use to give the unit a perfectly flat top.
The two internal trays can hold up to 580 sheets of A4 so it should handle even the longer print runs.
You can connect this unit via Ethernet, Wi-Fi or USB and it also supports NFC for printing from your SmartPhone either with third part Apps or the Brother one all downloadable for free. You can also print direct from Facebook, Dropbox etc without needing a PC to be linked. It can also print Duplex.
The last link at the end can give you all the figures.
Anyone who wants an A4 sized unit that can do everything with the plus of being able to immediately print the occasional A3 should certainly add this unit to their shortlist. While this is designed for office use it is not expensive and any home office or SOHO user would benefit from it.
The Brother MFC-J5720DW is available from the first link below for £204.92 with free delivery.
http://www.amazon.co.uk/gp/product/B00O636WIG?ie=UTF8&tag=gadge0a-21&linkCode=as2&camp=1634
http://www.brother.co.uk/printers/inkjet-printers/mfcj5720dw