Brother Multi Function J4620DW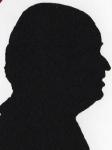 This is an inkjet unit and it can also print A3 as well as the normal A4. Two sided printing as standard and as it has four separate cartridges only the required empty ones need changing so you should also save money with this unit.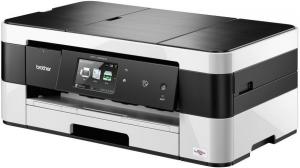 click image to enlarge
It is 48x29x19cm and weights 9.5kilos. If you wish to use the flatbed then you need some more height to insert and remove documents, alternately you could flip open the sheet feed which adds 7cm to the height.
This is not a unit for the high volume user as the recommended usage cycle is 250-1000 PPM, but the stated maximum is a quite substantial 13,000 PPM.
To connect you can choose Wi-Fi, Wired or USB and for those that have NFC devices this works well. If you choose Wi-Fi you do not even need to key in your password as this unit supports WPS.
Setup from the supplied CD-ROM is not quick and it took around 20 minutes to complete.
The 8x5cm TFT display is touchscreen and easy to read, it can be vertical fitted in the front of the unit or rise to up to 45degrees from the base to give the best viewing angle. It is mounted towards the left in a 22cm long section that only has one button on/off towards the right but there are LEDs that show through when the unit is on.
There is a single paper tray that can hold up to 150sheets of A4 this fits in the base of the unit with the paper loading landscape in the tray face down. Output is delivered face up on a shelf above the input tray and below the TFT. Should you want to use A3 it loads vertically in a manual feed at the rear of the unit.
Print speeds used to be a work of fiction, that has now been solved by all manufacturers having to use the same ISO sheets. So the claimed print speeds of 22PPM mono and 20PPM colour should be possible. Please remember that a one off page will take far longer than 1/22 of a minute as there is the time that the PC takes to send it etc.
Copying does not even require the PC to be turned on and the TFT has a range of options to include reduction and enlargement as well as multiple copies the speeds given are 12PPM mono and 9PPM colour.
Scanning can be to the PC or to a card port on the unit or to the cloud stated times are just over 3 seconds per page.
For those that require fax this is available on the unit, this is not a separate installation as it is less used.
I connected this via Wi-Fi and also via USB to an older notebook both worked correctly.
The four ink cartridges are of a reasonable size and should give 550pages using the 20% cover of the page standard. Higher capacity 1200 page cartridges are available.
I found that this unit was ready to print sooner after first switch on than a lot of units from other manufacturers. One test I did was to switch on and send a page to be printed at the same time around 20seconds later the page was printed, that I can assure you is good.
The Brother MFC-J4620DW is available from the first link below for £157.08 with free delivery.
http://www.amazon.co.uk/gp/product/B00O0N1I54?ie=UTF8&tag=gadge0a-21&linkCode=as2&camp=1634