HP OfficeJet 4630e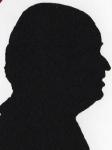 This is an All In One unit, that means it can Print, Scan Copy and Fax. It is very compact and you can print by normal use from a PC or by sending items across the Network or even across the world by using your special email.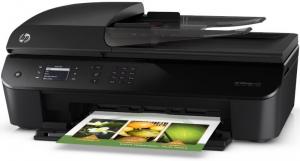 click image to enlarge
The HP OfficeJet 4630e measures 41x33x17cm with the paper tray shut but the difference between shut and open is only 5cm and the paper is within that. No further increase on the 17cm height is required if you are using the sheet feed.
The connections are all back left of the unit. All the controls are on the fixed sloping front lid, twenty two buttons and the 4.5x3cm six line display.
Unlike some such units there is less dead time before a simple page is printed. The 200 word document prints at 12PPM and a more normal 1500 word document prints just a tad slower at 10.5PPM. These timings are of course made in Draft mode but even this slightly noisier print is still black and sharp.
Printing an A4 page in full colour is in Best Mode as you are unlikely to waste Photo Paper on anything less and while printing time is not important to me – only quality – it takes around 90 seconds and is excellent. Remember this is a two cartridge (four ink) unit and you are unlikely to print too many full colour offerings. I did print one A4 image in Normal mode and this took 29seconds.
Copying is of course done from the unit and the six line display makes it very simple a monochrome copy takes 15 seconds and a colour one around 20 seconds.
Scanning can be done either from the unit or from the PC again making selections from the display is easy but if you want to scan only part of a page then do it from the PC.
The interface scanning from the PC allows two sizes of JPG, two sizes of PDF, OCR and two sizes of TIFF all from the front screen. According to which selection is made the right half of the window offers six immediate options, Scan Size, Output Type, Resolution, Item Type, File Type and Destination. The Source can be either the Flatbed or Page Feed and you can of course scan both sides. Scan Preview is also an option. All this from a single screen.
You have the option to fax and the screen here is also implemented from the same single interface choice screen.
This unit has a second use and this to be able to print from numerous other devices from anywhere in the world via the HP Connected website, during installation you set this up and providing your unit is turned on you print via a special email link. While I tried this from various local locations I did never try it from foreign countries but it should work in the same way.
Being only a two cartridge unit it is for those who do a little of everything and the interface makes everything easy. The small size means it can sit out of the way, if you use Wi-Fi it could even be in a cupboard.
The HP OfficeJet 4630e is available from the link below for £101.98 with free delivery.
http://www.amazon.co.uk/gp/product/B00IIJJRTK?ie=UTF8&tag=gadge0a-21&linkCode=as2&camp=1634