Whee Me Robotic Massager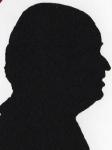 A very interesting and rather different product. Massage is something that most people appreciate for one of more ailments; while various medical experts can help, often, other devices can improve the symptoms at a lesser cost.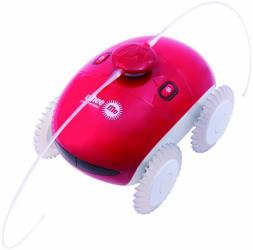 click image to enlarge
While I have reviewed specialist devices that fit to a chair this one is somewhat different as on first glance it looks like a toy car the wheels are somewhat unusual and it runs on 3x'AA' (not supplied) but it will work with rechargeable ones.
The unit has three modes and these are controlled by the two buttons on top. Each cycle of massage will last for 15 minutes after which the unit will switch off. It will also switch off should it fall over so careful placement is important.
Without its wheels it is 13x8x6cm, the wheels add 2cm to the height. The top of the unit has two buttons on/off and mode, between these is a white W and into this fits a button that can have one or two 'fingernails' attached. These are curved down and are around 20cm long. They are a thin plastic wire and before you get ideas about what real finger nails can do either in anger or passion these are not likely to inflict any injury they are more of a stabilizing tool for the unit. In fact I think 'fingernails' impart totally the wrong message.
There is a Quick User Guide with illustrations and this you will probably need to get the best out of the product.
It will by default start in Vibration mode, press the mode button again and it moves to Relaxation mode and press it yet again and it moves into Dancing mode.
The unit can be used in any of the three modes above, the 'fingernails' should only be used in Relaxation mode.
I tried all the modes and was initially a little disappointed as it is hard to keep the unit upright, it will climb hills and the nylon treads in the tyres do this well but it can't go beyond 90degrees as it then falls over. I also felt the vibration was not intense enough. However it can be used without the wheels and here as far as I was concerned it's a star.
A couple of weeks before it arrived I started to discomfort in the muscle below my right knee which was hardly crippling but painful especially after a day of exercise and it was not getting better. A friend of mine with some medical knowledge suggested I get it checked out. I rang for an appointment with my doctor and once I let them know it was not an emergency was told the first appointment was in fifteen days. So what do I do in the mean time.
Next day Whee Me arrived so I tried it, I found it worked fine within the limits of your back or stomach or chest area and it can even run up an arm but my problem was the back of my leg and here it just fell off, hence the removal of the wheels.
Initially if felt that the vibrations were far too weak to do any good but after a couple of 15 minute sessions things seemed to improve a little. So I kept it up and together with some proprietary gel to cool the area I got through the fifteen days wait to see my doctor.
It is nothing like the ministrations from a physiotherapist which on the occasions I have seen one were almost as bad as the problem. However for minor problems this could certainly help and given the cost of such appointments it could even save you money.
The Whee Me is available is red/white or blue/white. It costs £59.99 with free delivery from the first link.
http://www.amazon.co.uk/gp/product/B009VSWY7E?ie=UTF8&tag=gadge0a-21&linkCode=as2&camp=1634