Canon Pixma MP990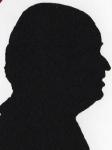 Despite its squat size I doubt this All In One from Canon will ever pass the lounge police. Perhaps it is the silver grey colour but more likely the black band around the top edge; however as a man what matters to me is quality and performance.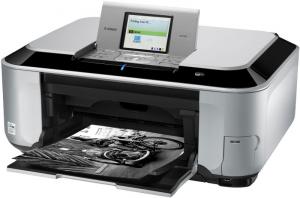 click image to enlarge
The Canon Pixma MP990 multi-function printer measures 44x39x21cm. There is a small lift up lid 17x8cm that sits towards the front centre of the scanning lid. There are a total of twelve buttons that sit under it (including the ubiquitous five position joystick) and on the reverse of the lid a TFT 9x7cm. The TFT opens to a position around 15degrees beyond vertical to allow reading from a whole range of angles.
As with the majority of recent Canon offerings this has an inbuilt paper tray at the base for normal paper and the older vertical offering at the back for letterheads and photo papers. You can easily select either at print time. Both trays are stated to hold 150 sheets, while I loaded 90 into the bottom one without overloading I certainly would not like to load that many in the back tray. In the back tray face forward and the bottom tray face back.
I am pleased to say recent printers have stopped the 'impossible' speed claims and now seem to give reachable figures. In the case of this unit 12PPM black and 9PPM colour. Of course this is still in the draft mode.
It is stated to print a 15x10cm image in 20 seconds while it probably will it will not be the best possible output. An A4 borderless image printed on Glossy Photo paper prints in 90 seconds in best mode, fast and good colour depth.
This is Wireless top of the range unit that can also work using USB or Ethernet. The cables insert back right. The power lead inserts back left. While on external connections there is a door on the front right edge that hides three card slots as well as a USB, the latter useful for Pict Bridge and also for images on USB stick drives.
Copying can be done from within Windows or direct from the unit, there are a good range of choices – reduction and enlargement – available. Copy quality was fine and anyone needing a single copy quickly it works.
Scanning of course needs the PC attached and while the norm is to copy from the flatbed to the PC you can do so from the card or USB slots.
Canon have long had good software and anyone will not go far wrong using the Canon Solutions Menu front end, yes the odd thing might be able to be done quicker with other items but this works and for anyone bar the real expert why look elsewhere.
This is a six ink offering and should you use a particular colour more than any other that is all you need to replace. This unit also supports printing directly onto special CD or DVD, do not try it onto ordinary CD's as all you will get is a non drying mess.
While this is a nice unit there is I am afraid one huge drawback – the price – when I first read it I was shall we say surprised. Yes it has Wireless, Ethernet and USB, a nice interface on the unit and a very nice easy to read TFT but….
Doing my Internet searches found the Canon Pixma MP990 at a best price of £228.04 including free delivery from the first link below. This is just over £100 off the RRP.
http://www.amazon.co.uk/gp/product/B002LVUKM4?ie=UTF8&tag=gadge0a-21&linkCode=as2&camp=1634
I found the Canon Pixma MP990 for $217.95 including free delivery from the first link below.
http://www.amazon.com/gp/product/B002M78HX6?ie=UTF8&tag=gadge0a5-20&linkCode=as2&camp=1789
I found the Canon Pixma MP990 for €288,48 including free delivery from the first link below.
http://www.amazon.fr/gp/product/B002M9SXCY?ie=UTF8&tag=gadge04-21&linkCode=as2&camp=1642
http://www.canon.co.uk/For_Home/Product_Finder/Multifunctionals/Inkjet/PIXMA_MP990/index.asp