Canon All In One Pixma MP620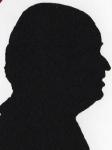 Review controls
A rather nice sleek looking unit with no outwardly visible controls or entry/exit points. This unit does print rather nicely and it scans and copies well. The only problem I can possibly see for this unit are the ever vigilant lounge police.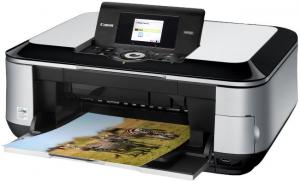 click image to enlarge
The Canon Pixma MP620 measures 43x31x18cm when closed. Add another 6cm to the last figure the height when you open the flip up display that also hides the twelve buttons to control the unit. Add 11cm to the second figure the depth when the paper receiving tray opens at print time. Add 21cm to the last figure should you insert A4 photo paper in the back flip up tray. So in use for photo printing the footprint is 43x42x39cm.
This is a five ink printer the three colours and a black (small size) and a separate larger black. It has two trays one underneath for plain paper and the other vertical at the back for photo paper.
As a text printer it is okay at 17PPM for the nonsensical 200 word document printed in fast mode. This same mode printed the more normal 1500 word document (spread over four pages) at 13PPM.
It makes a bold specific claim to print a 15x10cm photo quality print in 41seconds and it does once the printing starts. An A4 image or four near 15x10cm images printed on an A4 sheet take 105seconds; quality is fine and to me that is the most important thing with images but this unit is also very rapid.
Canon were the first to give you the option to print four near 15x10cm images on an A4 sheet a number of other manufacturers have since added this capability. The Canon software will place seven icons on your Desktop and I feel this is too many, I would suggest the Solutions Menu and Easy Photo Print being plenty, the others would still be available from the folder structure.
A novice can access everything from Solution Menu icon (even Easy Photo Print) so scanning, copying and printing can all be done using the wizards provided.
Scanning works well from the Solution Menu once you click the scanning option the next choice allows you to import from the flatbed or from a photo card. There are six choices for a document or photo on the flatbed. Colour Photo, Black & White Photo, Colour Document, Black & White Document, Magazine or OCR. There are default resolutions but should you know better you can change them, then just click scan and that's it. An A4 image takes less than 10 seconds and even a rather creased copy give acceptable results. The OCR option can be a bit messy at first as you need to select the scanner and either fill in the Scan Soft registration or cancel it however the normal rule applies give it a good clean clear crisp image and you get good results.
Copying can of course be done from the unit itself that does not require the PC to be connected but often options and choices can be done quicker inside Windows, however if all you want is a straight 100% copy then working from the 5x4cm TFT is very straightforward, it can also use a number of options such as reduction and enlargement.
Copying an A4 page in black & white takes 12 seconds and the colour option twice that.
I connected the unit via USB but I could have used Ethernet or Wi-Fi as this unit has all three. Like most Canon units it works with Windows and MAC although I only tested it under Windows.
While the claimed print speed was 'up to 26PPM' the best I got was 17PPM and Canon are better than most with their claims but I just wish at least one manufacturer would bite the bullet and quote obtainable speeds I am sure they would gain in the long term. The 15x10cm image speed was correct and the less than 2 minutes time for an A4 image on photo paper was outstanding.
So should you require an All In One unit that has reasonable text printing, excellent photo printing, good scanning and copying abilities that looks good and as it has Ethernet and Wi-FI it could even fit in a cupboard so the all encompassing 'lounge police' may even be satisfied.
Doing my Internet searches found the Canon Pixma MP620 at a best price of £103.90 from the first link below.
http://www.amazon.co.uk/gp/product/B001EO6Z50?ie=UTF8&tag=gadge0a-21&linkCode=as2&camp=1634
www.canon.co.uk/For_Home/Product_Finder/Multifunctionals/Inkjet/PIXMA_MP620/index.asp?source=selector