Print, Copy and Scan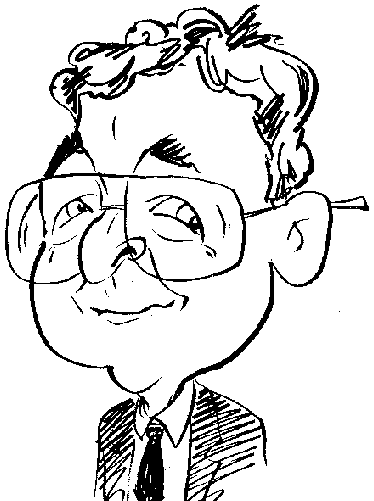 Currently a large box is blocking my hallway, the content of which is the subject of this review.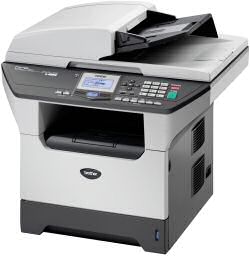 One thing you can say straight away about the Brother DCP 8060 unit is that it is not a shrinking violet with regards to its presence in your working environment. Alright there are several larger units available but the DCP 8060 is big enough for me. While it might qualify for the refrain "It ain't heavy, it's my brother", this multi-function device does not encourage easy movement from one location to another especially when you have my problematic back. Casting my personal health concerns aside, lets take a look at what this new product from Brother has to offer.
As mentioned earlier, this is a multi-functional device that combines copy, scan and laser print facilities with an ADF (Automatic Document Feed) capability within a single unit. From its base of 37.5 x 36cm, this two-tone grey unit rises to a height of 45.5cm while expanding its dimensions to 53 x 45cm at the top. The layout of this device has the paper input tray, with its 250 sheet capacity, at the base. A drop down flap, giving access to a secondary paper input route with a 50-sheet capacity, comes next as it sits beneath a mouth-like opening for printed paper output with a protruding tongue acting as the paper support. A control panel heads this opening and everything is topped off by the scanner and ADF.
The control panel has a centrally positioned LCD. This five-line display provides status and feedback information regarding the current task. The quality of this display is a big improvement on the displays I have seen on other Brother kit. A standard key pad with navigation buttons, plus others to stop/start operations; carry out various copy functions up to a maximum 99 sheets; and scan, provide the user with the necessary means to instigate most operations starting with the initial set-up are provided in a well set-out layout.
Setting-up this device is relatively straightforward with guidance being provided in the Quick Setup Guide. However I did manage to come across one problem with regards to the PaperPort software that is bundled with the DCP 8060. The problem was caused by the test system having a later version of PaperPort already installed. This caused the standard set-up to fail. Fortunately Brother includes an option not to install the supplied version of PaperPort and this enabled me to complete the installation.
While standard copying can be carried out from the scanner to printer without the need of a computer, other activities do require the active participation of a Windows or Macintosh system. When scanning, either single sheets from the flat bed scanner or multiple sheets using the ADF, you can select from resolutions up to 600 x 2400 dpi (optical) or 19,200 x 19,200 (interpolated) with the results being produced as an email, image, OCR text or saved as a file.
Any pages inserted into the ADF, which can hold a maximum of 50 sheets, will be automatically sent to the scanner for processing once the scan button has been pressed. The software will treat these pages as a single multi-page document when they are transferred to an appropriate application such as PaperPort. With the built-in OCR technology, the document is then automatically ready for editing.
As the DCP 8060 has been designed for home/office use, when it might be used by different people, it has a security feature whereby certain tasks can be denied to specific users. Some could be denied access to the scanner; others might not be allowed to copy; while a third group could have full access. Initially I had problems in turning on this security lock feature. Help, however, was on hand and Brother's technical support team soon cleared the problem via a reset of the unit.
Brother claims speeds of up to 28ppm for both printing and copying. My tests fell a little short of these figures. Printing my standard 102-word letter produced 26ppm while copying a full A4 page of text resulted in an output rate of 25ppm. Print quality was of a high standard throughout.
Along with its standard print functionality and automatic document feeding capabilities, the DCP 8060 supports poster and duplex printing. However the latter option is a manual operation with the user having to replace the first print run prior to the printing of the second side. This is hardly an onerous task but one that does require the presence of the user to complete a print run.
Brother does provide an extra service for those using one of its laser printers. When purchasing a new cartridge, you will find a pre-paid address label in the box. This can be used to send the old cartridge back to Brother using the new cartridge packaging. This relieves the user of the problem of disposing of the old cartridge and any related issues. Other companies could well take note of this socially responsible action. Well done Brother.
The DCP 8060 has 32MB of memory and comes with a one-year on-site warranty. This model has been priced at £279.99 and should be ideal for home/office and small business environments. Available from :
http://www.amazon.co.uk/Brother-DCP8060U1-Dcp8060-Laser-28Ppm/dp/B000GYHS8C
http://www.brother.co.uk/g3.cfm/s_page/50670/s_level/17000/s_product/DCP8060ZU1