Wilko stainless steel milk pan

The Wilko milk pan will be appreciated by those who like hot milk on their breakfast cereal or a hot milky drink at bedtime.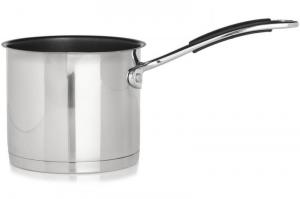 click image to enlarge
As anyone who has to heat milk knows, it is a tricky task. One moment it is sitting peacefully in the pan and then, just a moment later, it has boiled over. Hence the need for a deep pan designed especially for the task. This Wilko pan is roughly 11cm deep so that, even with 2 pints of milk in the pan, there is still over 6cm of headroom. Hence, as soon as one sees the milk starting to boil, it can be quickly removed safely from the heat before it has the chance to boil over.
This is a solidly made 14cm stainless steel pan, weighing 675g, which is suitable for all types of stoves – gas, radiant ring, ceramic, solid hot plate, halogen and induction hobs. It has an encapsulated base, roughly 4mm thick (even though it appears to be about 10mm thick) for even heat distribution, an external mirror finish and a non-stick interior coating. There is a silicone insert into its metal handle to ensure that one has a firm grip even when holding it with a tea towel or oven glove –necessary as the handle itself gets too hot to hold. It has a pouring lip suitable for use by a right-handed person and there is a large hole in the end of the handle so that it can be hung up when not in use.
The instructions provided cover cleaning (avoid abrasive cleaners); and do not use metal utensils which could damage the non-stick coating. Although it is dishwasher safe, handwashing is recommended. Other factors that are shown in the instructions include not putting an empty pan on a hot hob, allow them to boil dry, or subject them to thermal shock by pouring cold water into a hot pan. None of these instructions are unusual and they tell one, in essence, how any good pan should be treated.
Priced at £10 from Wilko stores or on the company's web site, it comes with a 10 year guarantee (but proof of purchase is required). It is a good buy that will not only do a good job but will be easy to keep clean and will look attractive.
http://www.wilko.com/saucepans+sets/st-steel-non-stick-milkpan/invt/0435746