Kodak Verite 65 Plus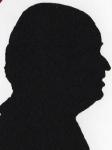 Around four years ago I reviewed my previous Kodak printer, I was told they were shutting that part of the business but still producing cartridges for their units. I saw a Kodak offering last month from Curry's for a Kodak Printer so this sent me into detective mode.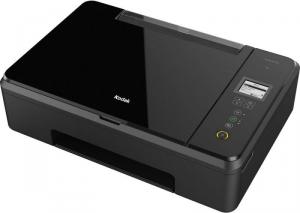 click image to enlarge
The Verite name has been appended to the word Kodak and here I am looking at the '65 Plus'. This is an All In One unit which means it Scans, Copies and Prints.
It can be connected via Wi-Fi or USB and it can also connect to mobile devices by several methods including installation using NFC.
The unit is a black box so your other half may insist it resides behind the sofa or in a cupboard, so Wi-Fi would be needed for most in this case.
It is 43x35x55cm the last figure allows for a stack of A4 to be stored in the vertical 'sit up' paper tray at the back.
Kodak were always the ones to work differently in that they charged more for the printer than most but then less for the ink so its swings and roundabouts, if you are a heavy user I see they do another model with '2 years' worth of ink included, that is also sold by Dixons/Currys.
The drivers and software are only downloadable from the Kodakverite website so Internet access is a must for the initial installation.
The controls are four buttons in a line from the front area to the right of the flatbed, behind these two columns of two touch buttons and behind that a small 4.5x3.5cm display which is described as 2 inches. This display remains flat meaning you have to be above the unit to see it. The whole section just described lifts from the front to enable cartridge insertion and removal.
Now being able to see the display is not vital for printing as that is controlled from your PC or SmartPhone. However for copying you need to see the display if you want anything other than the default setting of '100% and Colour'.
For scanning this can be controlled from the PC or the unit and so if using the PC all you need to be able to do if place the item to be copied on the flatbed. I found that both copying and scanning were a little slow but the output quality of both was excellent.
According to the size of cartridge you buy Standard, XL, XXL or 3XL the cost per page can be as little as 2.9p for black and 4.2p for colour the link below has full details, this includes the number of pages per cartridge.
http://uk.kodakverite.com/printer/verite-55-xl-plus/
The stated ISO printing speeds in draft mode are 20PPM black and 15PPM colour, first page out times are often more important and you are ready to print in 11 seconds black and 21 seconds colour.
This document – to this point - takes .5 of an A4 page and was ready to proof read in 15 seconds from pressing print.
Printing an A4 colour image with borders took 84 seconds, there are few controls and although the site says it can print A4 borderless the only borderless option that I saw is 15x10cm.
In my test period I had no paper jams – around 20 sheets of A4 face forward in the paper tray – and the pages are delivered face up from the front base of the unit.
The Kodak Verite 65 Plus is available from Dixons/Currys for £74.99.
While I have not tested the Kodak Verite 65 Plus Mega Bundle that is surly worth a look at the current price of £99.99. Remember that it come with two years' worth of ink included.
Both units are offered with free fast delivery.