DAB, Wi-Fi and Internet Radio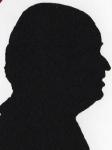 If you add Podcasts and FM radio then the title above just about covers the abilities of this, the first of – that I know – a new breed of dual radio that can cover such a wide band of features, this is the Revo Blik.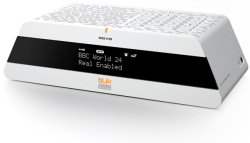 It is a maximum of 25x12x6cm, mine was white, but they also do black. The rear has a six section 55cm rod aerial, jack sockets for output to stereo speakers. A 3.5mm earbud socket and input for the power socket, the only other socket is on the right side 'Mport' that allows inputs from other sources such as an MP3 player.
The centre of the front has a 6.5x2cm three line display, white on black. When in standby this will show time and date.
On first glance the top of the unit has 23 buttons and this may make you concerned that it might be a problem to control, however the icons are clear and easy to follow.
On first switch on it does a quick local scan of DAB stations however I found this left a number of them with the dreaded ? beside them. Doing the slightly longer full scan I found 53 stations and no ?'s. Even after a further scan (always a good idea after a few weeks) the saved Presets were still in place.
The 16 pages of the operating guide were at times a little confusing suggesting that you press the menu button to get to the mode menu as an example, when there is a direct mode button available.
The first press of the mode button takes you to FM radio and a load of static but pressing either of the up or down arrows start a rapid search and it stops on finding a station (fully tuned) and sometimes this also displays the Station Name, however it will always display the frequency. Unlike other radios it defaults to 'strong stations' for the search finding it quicker. However you can change this for all stations. As always when you get your favourites save them in Presets.
The next push of the Mode button takes you to Mport and it will give you decent output for anything on your MP3 player or other device with 3.5mm output.
Another push of the Mode button takes to the Internet Radio section. Unless you have no security on your Wi-Fi you will have to spend a few minutes inputting your password. In my case - although it did not say it in the operating guide - I then needed to turn off and on again before it worked, however since then no problems and only a few seconds after switch on I can be listening to a radio station in Hong Kong or Australia or maybe even far flung parts of the UK.
Lots of stations now support Podcasts and once you have set the Genre of your choice you then are presented with a list of radio stations that support this and offer Podcasts. This seems to work best with the once a week offerings as then you can listen at anytime to suit you in the next seven days. The advantage of this is that it is being downloaded as you listen.
Selecting your Favourites can be a time consuming effort using the small screen on the unit. There is however another way, every Revo Blik has a unique identifier and once you know yours you can go to a website (address given in the operating guide) that once you have registered and entered your unique identifier you can scroll lists on your PC select a name for your group and once you have entered your stations then it is downloaded to your Revo Blik even if it is not on the same network and so the thousands of Internet radio stations can become one short list of those you want thus making a long search very short.
Doing my Internet searches found the Revo Blik at a best price of £149.90 including free UK delivery from the first link below. The Blik is also available with just DAB, or just WiFi at a lower price so check carefully which version is on offer.

http://www.amazon.co.uk/gp/offer-listing/B0011364ZA?condition=new
http://www.revo.co.uk/digital-radio/revo-blik-radiostation.php