Epson A3 AIO XP-960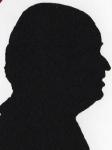 Just 12cm wider than an A4 unit this six ink inkjet offering might solve problems for those who need the ability to print A3 as well as A4. It can also print direct from a range of cards and memory sticks, connection can be via Wi-Fi, Ethernet or USB.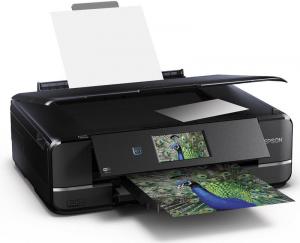 click image to enlarge
The Epson XP-960 measures 45x37x15cm however if you place this on a shelf you would need a few centimetres more on the last figure the height to add or remove items from the flatbed. You will also require around another 13cm in front for the paper output tray and TFT screen to open so 45x50x28cm should be the overall space requirements.
There are two paper trays a small around 30 sheets A4 tray in the base and the large 'sit up' tray that can take up to A3 sheets but you should also use this for thick card and photo paper, you also need to send the print job before inserting paper in this tray.
The TFT screen opens moving out from the base to 45 degrees when you press the only button on the unit which is on/off that has a blue LED surrounding it. The TFT is 10.5x5.5cm and has three lines of icons all very clear and easy to read.
Print speeds used to be a work of fiction but now that all manufacturers have to use the same material to test they become obtainable the claim here is 8.5PPM in monochrome and 8PPM in colour and while my tests were a little short of this I do not have the actual documents that manufacturers use.
The scan ability is 4800x4800DPI this can be started from the unit or the PC and you can scan to a memory stick or The Cloud so the PC need not be involved.
Likewise with copying all you need to do is press copy on the TFT and you get a screen that allows you to select number of copies – 1 to 99 – Colour or B&W and Density all immediately and you can even preview the result on the TFT and once previewed you can reduce and enlarge, however scroll up and the options just keep appearing, Density, Remove Background, Double Sided Copying, Layout, Reduce Enlarge, Paper Size, Paper Type, Paper Source, Document Type, Quality, Document Orientation, Binding Margin, Expansion, Dry Time and finally Clear All Settings. Another nice feature is the machine keeps beeping at you if you do not remove the scanned item from the flatbed within a set time.
You can of course print from a card or memory stick which also negates the PC being required.
There are lots of other on unit features available from the unit such as making Colouring Books, Printing Stationery, Print or Copy to CD or DVD, Greetings Cards, Photo Layout and Copy or Restore Photos.
Installation to a PC can be done from the website or more traditionally from the supplied CD-ROM.
I do not have a huge amount of A3 paper but I printed a very nice A3 image in Best Quality on Photo Paper in less than four minutes which I think is excellent.
This is not expensive for an A3 unit and as stated not that much larger than an A4 unit, it's easy to change source and each time you replace paper in the base you are asked to confirm the paper type.
At the time of publication the Epson XP-960 is available from Amazon £185.38 with free delivery.
Technical details are available on the Epson website.