Garmin Nuvi 1490TV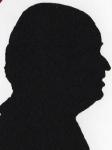 Review controls
This is a Sat Nav unit from one of the best known names in that field. This is also an in car TV capable of receiving all the digital channels. Why put both in one unit? Well if you have ever travelled with children you will know why.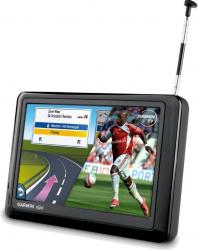 click image to enlarge
The Garmin Nuvi 1490TV SatNav measures 14.5x8.5x1.8cm the weight without any holder is 250grams. It can be used in the front of the car as a sat nav, in the back of the car as a TV and should you wish still as a sat nav where it can still give directions. Finally it can be used in Pedestrian or Bicycle mode as well as Car mode. I tested all but bicycle as I no longer ride a bike.
The viewable screen is 11x6cm and even with one single aerial attached indoors. I found this amazingly good. The controls are all touch screen, when watching a channel the screen goes full size, touch the right half of the screen to get the two controls back. The controls are volume up and down and channel up and down. Being digital TV you also have a range of radio channels available as well.
I mentioned above one aerial you have two supplied both with 5metre leads. In a car it is probably best to use both installed at 90 degree areas to keep the reception whichever way you are travelling. It is worth stating again how good I found reception with only a single area attached and it stuck to a window. It is a 26cm rod fitting.
Amongst the settings available are a channel guide and even sub titles, I watched at 50% brightness and it was fine. Should you be in good reception area you could also use the small 9cm pull out rod aerial instead of the plug in aerial.
As a sat nav it was also one of the best I have used. I rarely get a signal in my office but as soon as I turned it on it found where I was – accurately – and I was able to plan a route. The route was immediately accessible, very impressive.
A lot of sat nav units can only really be used in a car and should you go into a tunnel you are often left a while - once you emerge – without a signal. Here I found it had worked out the tunnel and was waiting for me on the other side.
It has a nice easy to read screen and can quickly reconfigure your route should you deviate from what it planned. It has everything including - speed camera warnings - that tend to be available on stand alone sat nav devices.
The left side of the unit has two headphone and power sockets as well as a micro SD card slot so you can have a picture show. The top of the unit has an on/off switch, I found it was 30 seconds to a working sat nav and 40 seconds to a working TV once you had pressed a couple of screen disclaimers about using whilst you are driving.
The back has a micro USB port to charge the unit, this can be in the house via mains or of course in the car via cigar lighter both leads are supplied. Beside this port are the two small aerial sockets to give wonderful reception in a car, as stated even one aerial gave me good reception in the house.
You can plan routes by entering an address or a post code. The sat nav will get you there with no problems and the female voice is clear and distinct. Best of all as a pedestrian you get near four hours of battery life, so unless you are walking on the moors all day you should have a days use in the battery. Even then you can connect one of the latest wrist batteries to recharge the internal battery should you not have enough charge in it.
If you have kids and travel in a car then the sat nav is useful the TV can save your sanity.
Doing my Internet searches found the Garmin Nuvi 1490TV at a best price of £245.49 including free delivery from the first link below.
http://www.amazon.co.uk/gp/product/B003A2JJH0?ie=UTF8&tag=gadge0a-21&linkCode=as2&camp=1634