Roberts Solar DAB Radio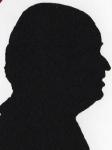 Review controls
This is quite a squat unit, it is DAB only so no FM. However the white unit with grey sides looks quite nice. Normally a DAB radio on batteries is unlikely to get beyond ten hours this unit shatters that by a long way.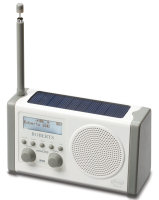 click image to enlarge
It is 19x11x7cm, weight is around 700grams, the grey sides are rubberised as is the base of the seven section rod aerial that extends 58cm from the top of the unit. The back has 3.5mm connectors for line in and earbuds. There is also an input for the mains adapter.
Everything else is controlled by five small rubberised buttons and below that two larger rubberised twist knobs are below back. Above these knobs is a 5.7x1.8cm three line display black on grey when on apart from initially when it is black on white. To the right of this is the 7cm circular speaker.
The top of the unit has the rod aerial of the far left and to the right of this a 14x4cm solar cell. While I did manage to run the unit for short periods from the solar cell the amount of light – let alone strong light – at this time of year is in short supply. Perhaps in the summer with lots of sunlight you could get a decent amount of use from this unit.
Running it on mains uses little power, running it on the 3xAAA battery pack gives figures that are hard to believe. So my tests were repeated three times and of each occasions the least time I got from a full charge was 25 hours 35 minutes, the best was just four minutes short of the claimed 27 hours.
Given that the average for other DAB units is well under ten hours these figures are nothing short of amazing.
Sound quality for listening with a radio nearby is fine but of course reception varies in various parts of the country and there are various websites that give a good idea of how the reception will be in your postcode area. I live in a good reception area and this unit finds 56 stations. This of course means better battery life as volume level can be lower as the sound quality is purer.
In theory the solar panel can even charge the unit while in use, however as the last summer was so poor I doubt this would apply even if my test period had been in summer. Putting it on a sunny window ledge is maybe a help but light through – even single glazing – is reduced and so unless you spend a lot of time outside I doubt you – in the UK – will ever get to the point where you do not need the charger.
There is a clear eighteen page manual that explains how to set presets (ten available) once you have done the initial scan I doubt there is much reason to go near the manual but if you have a query it will surely answer it.
The speaker is one watt and while this sounds small it gives a good sound easily able to fill a room. Of course if you want stereo you will need to plug external speakers in (earbud socket), to import sound from say your iPod or MP3 player you can use the Line In socket.
I see other colours are available (black, green, red or pink) so are you doing your bit in saving the world, maybe. If you have a lot of bright light in summer in your area you could even manage to get the solar panel to charge the unit. The close to 27 hours on a full charge will save you money so will be a help.
The green ECO badge with a tick may or may not be an official one but it is certainly a lot more economic to run than other DAB radios.
Now the price entry level DAB radios (the sort that batteries last around 6 hours) cost under £20. This unit is likely to cost closer to £80 so to actually save the difference will take many years. Is it a better radio, certainly sound quality was good, certainly it looks good and perhaps for some it will be a good talking point.
Doing my Internet searches found the Roberts Solar DAB at a best price of £69.99 from the first link below.
http://www.amazon.co.uk/gp/product/B001BPCQL4?ie=UTF8&tag=gadge0a-21&linkCode=as2&camp=1634
http://www.robertsradio.co.uk/Products/DAB_radios/solarDAB/index.htm