DAB radio comes of age?

Published 10 Dec 2007 Author
petew
Until recently DAB (Digital Auto Broadcast) radio has been something of a niche technology. Dab radios have offered little advantage over their analogue forebears other than limited battery life, often poor reception and higher prices. A lot has changed in the last year with DAB radio going mainstream.
Pure Chronos II
The government want us ultimately to use digital radio services. Why? Well as with most things government it really comes down to money. If they can persuade us to 'go digital' they can sell off the frequencies traditionally used for radio services to the highest bidder.
Don't worry about a digital 'switch-over' too much though - Getting rid of all the analogue receivers in the country is a virtually impossible task so analogue is around to stay for now at least
So why, as a consumer, choose to go digital?
Until recently the reasons have been a little thin on the ground. Miniaturisation, technical advances and some great designers however have now combined to produce wide variety of new DAB radios at prices close to comparable analogue products. Almost without exception these products also include analogue FM receivers if you do experience bad reception in your area. The BBC have a very useful page to tell you what kind of reception to expect in your area on the following URL :
http://www.bbc.co.uk/radio/waystolisten/digitalradio/
Just enter your postcode. The BBC claims to cover 85% of the UK population, which means many rural areas won't be covered. Most major urban locations should however have a decent signal.

Back to the question - why go digital? We've reviewed a number of DAB radios in the last year. From this it's good to see that the manufacturers are starting to push the envelope a little and not just try to reproduce the service you could get with analogue.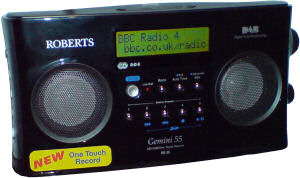 Roberts Gemini RD55
A few key benefits you're likely to see that may persuade you to make the switch :
Easier tuning. This has always been there with DAB - but worth mentioning. The tuner will find all the stations in your area - all you have to do is scroll through them by name and select the one you want to listen to. A little like scrolling through TV channels.

Digital quality. Assuming the signal strength is sufficient you will have excellent reception. I'm not far from London but very few analogue stations provide adequate performance to listen to stereo. If you get a signal with DAB you will have stereo (assuming it is of course a stereo station!).
Additional features. This refers to features different manufacturers add to their product to make it stand out. Common examples include "pause live radio" and "record to MP3 format".
As with all new technologies there are still problems. Examples of these include :
If the signal is not strong enough you get nothing. Whereas an analogue station will just give you a noisy signal with lots of hiss with DAB you will get nothing. With analogue you'd still get something to listen to.

Battery consumption. It takes a lot of power to decode a digital signal and covert the '1's and '0' to sound. If you want to power your radio by battery expect a) significantly shorter life-times and b) bigger and more batteries. There is a 'c' - used by some manufacturers to offer high power-density Lithium derived batteries, but like those used in laptops. These are however very expensive.

Reception. DAB appears to need better signal strength than analogue so you'll find the best DAB units have a longer aerial. It's also the case that reception quality seems to vary a lot between products.
DAB is complex and that complexity is not only reflected in power consumption but also in cost of product. While the cost continues to fall a DAB radio is still going to cost more than the analogue equivalent for some time to come.
Our favourite DAB radios include the following :
Roberts Gemini RD55 stereo DAB radio
Roberts are a radio pioneer with very many years experience. Having produced excellent analogue radios over the years it's good to see them moving strongly into the DAB market.
We were very impressed with the Roberts Gemini RD55 which won one of our very rare 5x5 smiley awards. Reception was excellent providing consistent results. This is a fairly inexpensive product but includes both the ability to pause-live-radio and to record radio directly to external Flash memory cards. We also liked that this product provided a standard 'line-in' socket allowing MP3 players and other devices to make use of the good quality speakers.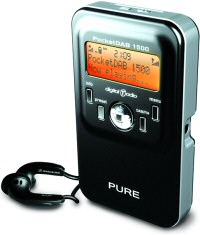 Pure Pocket
DAB
1500
Pure Pocket DAB 1500
Pure are a very well known brand in the DAB radio market and one of the first to produce products. We've reviewed very many of their products over the last few years. All are well made and we've not been disappointed.
This particular product was awarded 'highly commended' status, and only missed our on a 5x5 award by one smiley on value for money.
The 'Move' allows you listen to radio on the road with a small pocket format with head-phone listening. There is no speaker. This is the iPod of DAB radio. Using advanced Lithium Polymer battery technology allows this device to deliver around 24 hours listening on a single charge!
Roberts Gemini RD-21
If ultimate battery life is of concern then this product is worth a close look. While it has very few of the bells and whistles of competing products, it does boast 150 hours of listening from a single set of batteries. Unlike some of the products from Pure, the RD-21 uses standard batteries - it doesn't come with a rechargeable battery built in.
Pure Chronos
Most recently we've been impressed with the 'Chronos' range. There are various products including the Chronos II (which is in Santa's Sack!) and the Chronos CD that has a built in CD Player.
Pure Move
The Pure Move adds modern styling to portability. We've already highlighted the high-power requirements of DAB over analogue. In this case Pure have added a built in Lithium-Ion battery using the same technology as laptops to provide up to 40 hours use between charges.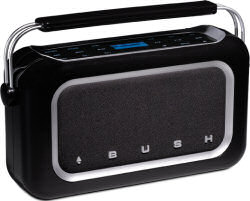 Bush TR04
DAB
DAB
Radio
Although this device doesn't have a distinctive name, it did fair well in our tests. With traditional looks this radio provides ease of use over advanced functions. Reception was good and sound quality crisp.
Please read the full review here
Summary
We've only listed a few of the many DAB radios we've reviewed over the last year or so, each aimed at a different target audience. In this time it's good to see the original rather niche DAB radios spreading out to cover just about the entire range of uses an existing analogue radio would cover.
Click here to browse through the complete list of DAB radios reviewed on GadgetSpeak and you should find something to meet your requirements.
One gap still to be filled is the car radio. Except in a few top-of-the-range models the car is still the domain of the analogue radio. This is likely due to the unforgiving electro-magnetic environment of a car coupled with the sensitivity to signal quality required for good DAB reception. This will undoubtedly change over the coming months. Until it does of course there is no chance of analogue radio being phased out as analogue TV signals are currently being phased out.