Roberts Gemini RD55 stereo DAB radio

Published Sep 4, 2007 Author
petew
Review controls
If you've had enough of the 'retro' look that seems to be mandatory from many DAB radio manufacturers, and want an excellent, full feature DAB radio into the bargain then the Roberts Gemini 55 radio should definitely be on your short list.
Buy Now
Roberts Gemini 55
DAB Radio
£89.99 from Amazon

£99.95 from John Lewis


£99.99 from Comet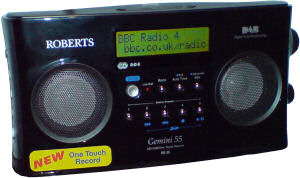 The Gemini 55 from Roberts is an all-in-one DAB (Digital Audio Broadcast) radio, available in either glossy black or white depending on your preference. Size is 27cm by 13cm, with a depth of 7cm and weighs in at around 1Kg. The unit comes complete with a mains adaptor. If you prefer to run from battery then you'll need 6x'C' cells, which will add a reasonable amount to the weight. Battery life from a fresh set of standard alkaline batteries should be around 20 hours.
Reception using the six segment telescopic aerial is very good. In my area I had no problem receiving a wide range of channels very clearly with no drop-out. For those times when you're outside the DAB coverage area you can tune into FM, and again the quality of reception is very good. If you are using FM then the radio will correctly identify stations through the RDS system that is more commonly used in cars.
Sound is provided by two speakers, one on either side of the unit. Sound quality was exceptional given the size of the speakers used, providing very good bass and rich deep tones.
Pausing live radio
Pioneered first on video recorders, the idea of being able to 'pause' a live broadcast has now made the jump to DAB radio. While not the first product to support this feature, the Gemini definitely makes this very easy. To pause, simply press the tuning knob inwards. The broadcast will pause. When you're ready to start listenning again, simple press again and the programme will continue to be played, delayed by however long you were away.
The length of time you can delay depends on the bit-rate of the station you're listening to. The manual says you can expect between 5 and 20 minutes. The following table gives the figures I actually achieved for various stations :
| Station | Content | Bit-rate | Maximum pause |
| --- | --- | --- | --- |
| Capital | Music | 160Kbps | 6 minutes |
| BBC Radio 4 | Talk | 128Kbps | 7.5 minutes |
| Heat | Music | 64Kbps (mono) | 15 minutes |
Once you've built up a paused backlog you can then fast forward or rewind within that window. Skipping adverts or sports news for example is simple!
On the whole the feature is great for those times when the phone rings, or the kids need to be pushed out the door for school right in the middle of an interesting interview.
Recording you favourite programmes
When I was growing up the the 'must-have' gadget was a radio-cassette recorder. You could record the top-40 onto a tape then listen to it for the whole of the following week! Things have moved on and it's almost impossible to find a quality portable system with cassette player now.
The new solution to this requirement is digital recording onto a memory card. These cards are not much more expensive in real-terms than cassette tapes were in days gone by. The Gemini 55 includes an SD card slot. The manual claims that product has been tested with cards up to 1Gbyte, but should support a maximum capacity of 2Gbytes. A 1G card is only going to set you back around £7, a 2G card around £11.
By today's standards this isn't a huge amount of space - but then audio doesn't take a lot of room. A 1G SD card should give you around 16-32 hours of recording time, depending on the quality of the station you want to record.
The SD card has another added benefit - you can transfer music onto a card and play that through the quality speakers on the system. You can play back MP2 and MP3 file formats.
With an SD card installed recording and playback is simple.
Connectivity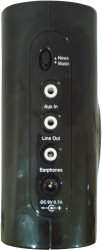 Reversing the trend of many portable machines recently, the Gemini 55 comes with a wealth of options for interfacing with other products.
On top of the unit, next to the SD card slot is a USB connector allowing you to transfer files directly from your computer onto the SD card in the radio. Transfer is slower than using an external memory card reader, but convenient and avoids the need to buy a separate card reader. You can also use this interface to transfer programmes you've recorded onto your computer. You might then transfer those to an iPod or other MP3 player to listen on the move.
On the left-hand side of the unit you'll find headphone socket along with line-out and aux-in. A standard auxilliary input through a stereo jack plug makes this machine MP3 player agnostic - it'll work with any device that provides line-out, allowing you to connect your MP3 player, phone or any other device. Playing my old Sony NW-HD1 worked perfectly. I found this the ideal solution to listening to my music collection while cooking. Line-out is probably less useful on this product but does allow you to connect to a more powerful external amplifier for example.
Summary
I'm really impressed with this product. It's addressed most of my issues with DAB radios :
It looks good (personal preference but I've alsways wondered why the first couple of generations of DAB radio had to look like they came from the ark!)
It has stereo speakers - why go for DAB and mono?
Can pause live radio for at least as long as the average phone call without need for a memory card
Can record onto external standard memory cards
Computer connectivity allowing you to archive those important programmes!
Standard line-in providing compatibility with just about any MP3 player
Excellent sound quality
The last plus point is price - the RRP for this unit is £99.99. It's difficult to find a portable stereo DAB radio at that price and then you wouldn't get the high-end features of pausing live radio or recording to SD card.

I've only found two vendors stocking the Gemini 55, it's a very new product : Comet for £99.99 and Amazon at £89.99. For £89.99 this product is even better value for money :
http://www.amazon.co.uk/Roberts-Radio-Digital-Recorder-Colour/dp/B000V5LPSU