US Robotics USB Internet Phone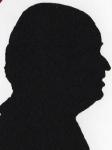 Review controls
If you use Skype or some other VOIP communication then you have probably tried a microphone/speakers setup and other combinations however only a phone gives that real phone experience.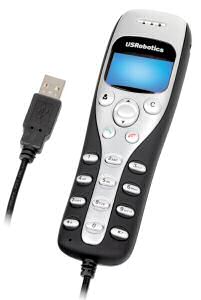 I can only talk about the experience from a Skype users point of view as I do not use any of the other VOIP products but reading the instructions I am lead to believe it will be much the same. This solution needs either a Windows 2000 or Windows XP system.
If you already have Skype installed just plug the phone into a USB port - either USB 1.1 or USB 2 - and after a few seconds it will probably say installed but you need a reboot. At this point in time the phone is just a microphone and speaker. By this I mean even though it has a 3.5x2.2 display making it look like most simple mobile phones but with a lead out of the base it is still dumb. With Skype loaded on the PC it will display VOIP Phone on the bottom line of the display. The phone will ring - rather quietly - and you need to click on the Windows window to accept the call, also to make calls you need to use the same window within Windows. At this point you hear - and others hear you - just like a normal phone. No echoing that some other solutions produce but the 19 keys on the face of the phone are just so much decoration however this mode is useful if you move around as you can quickly plug in and log on to any Skype enabled PC taking the Model 9600 handset with you.
The handset is 12x4.5x2cm and has a light green LED alight when it is connected with Skype loaded. There is a chunky manual that has the first 13 pages in English.
Once the software is installed - if you only install the software for the phone it is 6MB and takes only a minute - you have an icon on your desktop that allows you to change the volume of the phone ring and volume you hear others and also volume other people will hear you. This is great for people who are slightly hard of hearing.
Now when the phone is plugged in you are shown a display that shows month, day and time on the top line an abbreviated day of the week on the middle line and the year on the bottom line. When in use the year disappears to be replaced by a counter saying how long the call has lasted, when completed it changes to finished. You also have an extra icon in the Windows tray red if Skype is not loaded and green if it is, either way you can adjust certain things like the volume and choose if you want Skype assistant automatically loaded at startup but the best thing to me on this screen is the choice of ten different ring styles.
Now you should be able to make full use of the phone interface. You can setup speed dials etc just like on your mobile. Think of it as a mobile on a tether and you will not be far wrong. Good point all the time you are calling other Skype users the calls are free, Skype out and Skype in calls attract a small fee to one or other party but far less than most telecoms provider. The bad point is the obvious one you need to be at a PC.
I found that just like the US Robotics Speakerphone (14/4/06) when the USB Internet Phone is withdrawn from the USB port sound automatically defaults back to speakers with no user intervention.
Doing my Internet searches found it at Amazon priced at £12.99, link below.
http://www.amazon.co.uk/gp/product/B000HN30ZC
http://www.usr-emea.com/products/p-voip-product.asp?prod=voip-9600&loc=unkg