USR Mini Cam for Skype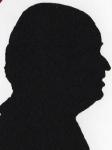 Review controls
While the camera itself is tiny the headset that comes with it is of a conventional size. If you want to see the other party while talking on Skype – video conferencing – this could be for you.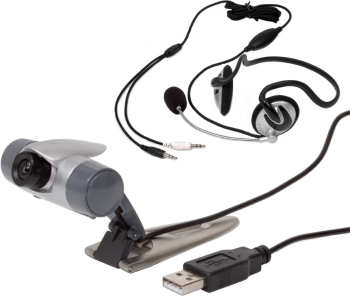 To use the USR Mini Cam for Skype your PC will need to be running SP2 of XP or later. You will need a spare USB port for the camera and two audio sockets for the headset one for the microphone and the other for the speaker.
The headset comes with 2.1metres of lead so providing you are near to a PC it should be okay. The mini cam has 1.7metres of lead certainly enough to fix on or near the monitor/panel.
You will also need Net Framework 2 and the installation will install this if required. The total hard disc space required for Net Framework 2, Skype and the US Robotics software is 320MB.
There is a Quick Installation Guide (six pages in English) but the manual is on the installation CD as a series of linked HTML pages.
The headset is nothing new a lot of people use them all day everyday it does have a volume slider built in other than that it's standard. My preference is for a phone as - luckily for me - I do not have a headset attached all day.
The camera is capable of taking both still images and video, the latter at up to 800x600, it can give 30fps at 640x480. It is 6cm wide and 3.5cm deep to the hinge and 2.5cm tall. The hinge is 7cm long and most modern panels would be able to accept it. Still images can be captured at up to 1280x1024.
The software has a range of options perhaps the best of which is face tracking which providing you are sitting somewhere vaguely within the view of the lens will given a few seconds log onto you giving a head and shoulders view, you can then be tracked proving you move only within the range of the camera.
I tested this with another journalist over a 1MB internet connection and I got an 20x15cm image of him with only a modicum of pixelisation. I would equate it to a slightly sub standard TV image but still far better than anything I have seen before over a web cam. Remember Skype is also carrying the audio at the same time. The camera view is stated to be 70 degrees and it has 3x digital zoom.
This face tracking feature is part of the US Robotics camera and not part of Skype. Skype itself has a whole raft of goodies that are likely to appeal to the younger ones some I tried were quite clever.
I would have been happier if the camera had been provided with a handset rather than a headset but that's my personal preference. The software does state it works with XP or Windows 2000 but as stated you need SP2 on XP and according to the box its SP4 on 2000 for it to work. You need at least 1.2GH Pentium 4 with at least 512MB of RAM. While it is stated to be compatible with USB 1.1 it does recommend USB 2.
Skype has now moved on to version 3.1.x but it is stated to work with versions over 2.5.x. The PC I used to test it did not have Skype or Net Framework 2 hence the 320MB requirement, the box states 100MB.
The quality of the images were excellent and the face tracking technology would be superb for a conference call scenario this little camera and Skype could certainly help in the business arena. No doubt friends will use it for less savoury purposes but whatever purpose a tool is developed for someone else will find other uses for the same technology.
Doing my Internet searches found the US Robotics Mini Cam for Skype USR809640 at a best price of £27.69 from Amazon.
http://www.amazon.co.uk/gp/product/B000OMIME0
http://www.usr-emea.com/products/p-voip-product.asp?prod=voip-9640&loc=unkg