Lindy USB VOIP Phone for Skype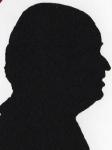 There are lots of VOIP and Skype phones out there and without the supplied software this is just another (albeit stylish) phone. However add the software and the phone is no longer a 'dummy'.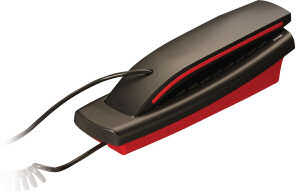 This Lindy USB Skype handset is a two piece offering black predominately with a red stripe down each side of the top part and a red underneath for the base part. It can be wall mounted or sit on your desk. The base is a maximum of 18x5.5x3.5cm (there is a 1cm difference between the front and the back. The top part is 18x4x1cm and slightly curved so it feels good when up to the ear. It fits in a small notch in the base keeping it just above the two columns of eight buttons. Give the base two LED's one red and one green and that's the phone.
Should you already have Skype you can just attach it and start making and receiving calls but only from the Skype window on your desktop, although you can speak and listen via the phone the ring is very weak and you are likely to miss calls unless you right beside it.
However install the software and things change you no longer have a dumb unit. When you get a call the ringing sound is as good as a normal landline and you will certainly be aware.
You can end a call by a button on the rear (ear side) of the top. All other controls are on the base and unlike those infuriating one piece offerings you can keep it to the ear while you add extra digits as you get with so many call centres where it is 'press 1 for' etc. With those you can miss whatever you need to press next.
Apart from the 1 to 0 numerals that are great for making Skype out calls there are also * and # as well as the green phone (to answer an incoming call) and up and down arrows to let you page through your contacts.
I have made and received a number of calls using this two piece phone and can honestly say it's exactly like using a landline, no signal drop off and even with long calls no problems.
I do not have Skype In but I see no reason why it should be any different to receiving a standard Skype call. Certainly using Skype out worked fine and I could dial the number using the base of the phone.
Yes the PC does need to be switched on as unlike those units that work from a router the basic information of who and where you are needs to be known by Skype but once Windows has established the connection that's it the whole process can be delegated to the phone although Skype does need to be opened on the desktop it can be minimised.
If I have a gripe it's that the ten page user manual is only on the CD in PDF format so you need to print it out or read it on the PC.
Although I have not tested it the information states it will work with other products such as Yahoo Messenger and MSN. Perhaps the simple statement 'it's as easy to use as a regular phone' says it all.
The stated price is £21.99 it is available from Amazon and other retailers or direct from Lindy.
http://www.amazon.co.uk/gp/product/B000T2A3U6