Logitech Cordless Internet Handset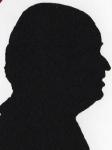 Review controls
I use Skype for talking to both friends and increasingly to business people who add their Skype details to business cards. Here I can roam while talking.
Buy Now
Logitech Internet Handset
only £52.92 from Amazon

£54.04 inc VAT
from Misco



Even if you only use Skype on an occasional basis then this 'phone' is excellent. Unlike other units - both corded and cordless - the Logitech Cordless Internet Handset allows you to answer and make calls when not near your PC. Yes the PC needs to be on and Skype needs to be loaded but that's all.
The claim is 50 metres, well I left my home, walked down my path and then went 9 houses down the road before the person I was talking with said I was breaking up. I tried this in the other direction and got almost as far.
Just today - as I write this - I needed to get some information from my garage while I was talking to a friend, my garage is not attached so coat on round the back to the garage and no break up in conversation even when I got into the car to retrieve the required information. While my longest travels were probably nearer 40 than 50metres that's a great deal further than other devices and this unit is just like a mobile phone. It is 13x4x2.5cm and weights only around 100 grams.
In the box apart from the phone is a DECT base station, charging cradle with power brick together with 2x'AAA' rechargeable batteries. A setup CD with Skype as well as the Logitech software and a Quick Start Guide.
When you plug the DECT base station into any USB port on the first occasion the required software is installed and if required you can also install Skype. A reboot is required and the software loads and it will also load Skype.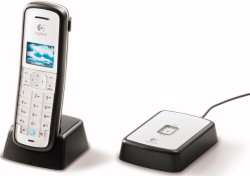 You can still use the familiar Skype Window when at your PC but should you need to move away just slip the handset in your pocket and you can answer and make calls from anywhere within range.
I tend to leave the phone - when at the PC - in the charging cradle so it is always fully charged. The DECT base station is 8x6x2 and can be attached to any USB port it does not need to be one at the front as it comes with a 1.6metre lead it can be useful to see it as it has power and in use indicators on it, however this is not essential so it can be on a shelf somewhere within 1.6metres of the USB port.
The box also says - should you have two handsets - that they can be used as an intercom and certainly one of the buttons on the phone's face is marked 'Int' and when pressed you get Handset 1 or Handset 2 as options. The handset itself has 19 buttons and a four position one to allow you to navigate your Skype contacts on the screen. The screen itself is 3x2cm and clear and easy to read so you can see who is calling before answering.
Certainly anyone who needs to move around will enjoy the benefits of not having to keep listening for the PC to ring, or alternately return to their PC from doing other things to find they have missed several calls.
Doing my Internet searches found it at a best price of £54.04 including delivery from the first link below
http://www.misco.co.uk/productinformation/~90816~/product.htm?affiliate=2009
http://www.logitech.com/index.cfm/products/details/GB/EN,CRID=103,CONTENTID=12148