US Robotics Cordless Skype Dual Phone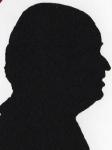 This is a two in one phone meaning that you can make and receive calls like any landline offering but it can also make and receive Skype calls, it even includes three months of free Skype in calls.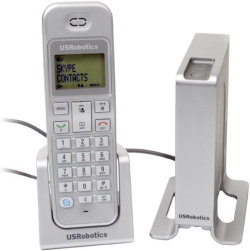 This cordless phone from US Robotics (USR) is stated to have ten hours of talktime and one hundred hours in standby. Do not be put off by the array of cables when you open the box.
The five pages in English at the start of the Quick Installation Guide make most things clear and the only problem I had was physically switching the phone off - I do not mean ending a call - as this was not described correctly.
So in the box you get a one piece handset 15cm long that has 20 keys and a 3.4x2.4 cm four line display black on green/grey without the backlight on and black on yellow with back light. This has a small charging cradle that it sits in - when you replace it - the initial charge for the two 'AAA' batteries takes 14 hours, it has a lead out of the back of the cradle with 1.8metres of lead going to a 13amp plug brick with power adapter build in.
The base station plugs into a USB port but needs power, this comes from another power brick. The base station is 12cm tall, 11cm deep and 2.7cm wide but the base is 6.5cm wide. The top has two LED's a yellow USB one that is lit if the connection to the PC is made and green one 'in use' that is solid unless you press the one button beside it to page the phone. The base has a hard wired 1.3 metre USB lead a socket for the power brick and socket to attach the optional land line phone lead.
In the box is a CD and you need to install a small piece of US Robotics software that will only install once Skype is detected on the PC. Should you not already have Skype a copy is on the CD. Also in the box is a voucher to give you Skype In free for three months. This means that you are given a normal phone number so that people without Skype can ring you via the Internet and your PC.

If you connect the lead to your phone socket you can also make and receive calls as if it was a standard phone. This gives you added flexibility as either in landline or Skype mode the phone works away from your desk. I have had conversations where I have walked out of my house to the road and while this is not amazing it is through three walls and around 20 metres and still neither of us noticed any reduction in the call quality.
In an office environment - or large house - the page facility from the base station could be useful.
In Skype mode you still get the Skype screen on the PC and when a call comes in both the phone and computer ring. However you cannot call from the computer screen and speak on the Skype phone. You have to scroll down the screen on the phone and instigate the call from there.
While this is a good idea I do have some reservations needing two power bricks means two 13amp sockets, yes often the charger will be in a different room. I understand that the drain on the PC or notebook means that USB power alone means that a power brick is needed there, but perhaps their could be a charger built into the base station.
The phone itself is on the large size to fit into a pocket maybe a belt clip could make it less likely to be put down somewhere and having to use the page function to help find it again.
Doing my Internet searches found this US Robotics Cordless Skype Dual Phone Model 019630 at a best price of £57.79 including delivery from the first link below.
http://www.pyramid.com/Product.aspx?StockCode=B71106&ref_Source=Shopping&ref_StockCode=B71106&ref_Type=CPC
Also available direct from Skype for £59.95 :
http://accessories.skype.com/item?sku=USR
http://www.usr-emea.com/products/p-voip-product.asp?prod=voip-9630&loc=unkg