Belkin Wi-Fi Phone for Skype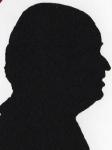 Review controls
This has one clever plus on the large range of Skype phones, to use this the PC does not need to be turned on. So provided you have a wireless router that's it.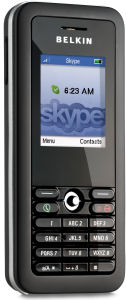 The Belkin WiFi phone for Skype is 11.5x5x2cm and looks exactly like a chunky mobile phone. The weight is close to 100grams and the rubberised exterior says it could survive the odd drop onto the carpet.
It has 16 buttons plus the ubiquitous joystick. Above these is a 3.6x3cm clear a bright display. For anyone used to using Skype on a PC the use is not that different it is even possible to make Skype out calls as well as to contact any of your contacts who are online for Free just as you would on the PC.
The first use is a little fiddly as you have to enter in your Skype name and password (no I did not remember mine) but Skype can help. Another task that is somewhat time consuming is entering the wireless router security password. However these are all one time settings as after that the phone will log on automatically. First it find the wireless networks in range and then connects - using the stored password - and this I found took around 55 seconds. You now are looking at the display reading your Skype out credit and a clock saying 12.01AM. Around 30 seconds later your contacts are downloaded and the screen clock displays the correct time.
Having had the odd problem with audio settings I tend to test things first by calling the Skype testing service. However since having the Belkin Skype phone everything seems to work without problem and now I am bold enough to just highlight the contact I want to speak with and make the call.
Providing you are within a few metres of the wireless router the call quality will be fine. I know some people suffer with poor quality of calls after around three minutes but this did not seem to occur with the Belkin Skype phone, possibly because it has an unfettered connection direct to the wireless router and is not distracted by anything going on with the PC.
I do not have Skype In so I could not test this but as the connection is just the same as when on a PC I can see no reason why it should not work. I have used Skype Out I find it amazingly useful when the person you want may not have their PC on or has forgotten to load Skype.
One use I have not mentioned is useful for those who spend a lot of time out and about as it can be used in 'wireless hotspots' thus bringing your desk to your cappuccino. This will probably involve a little work entering new codes but when you return to your home or office it will find your own wireless router again. The only thing it does not seem to support is those hotspots that require a web based login.
Unlike some other 'wireless' devices that only seem to support WEP encryption the Skype supports that as well as the more secure WPA, WPA2 and even PSK. The Belkin Skype phone already has Skype in it so even if you are new to the world of Skype it is possible to get a new Skype account - however in the first instance I would suggest you find someone PC or MAC who has Skype and create a new account on their computer as it is easier and quicker - but Skype can be yours without a PC if you use hotspots during your day. It can reduce the costs as Skype to Skype calls are Free and Skype out calls are far cheaper than standard mobile calls.
Doing my Internet searches found the Belkin Wi-Fi Skype phone at a best price of £87.89 from the first link below. The second includes some animations to show it off.
http://www.dabs.com/productview.aspx?Quicklinx=4BYX