eBook from Binatone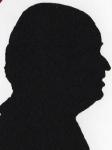 While most eBooks are using eInk that causes battery power to only be used when a page is turned and I see that Binatone do one of those (higher price) I am looking at a model that uses a conventional display screen and has extra features.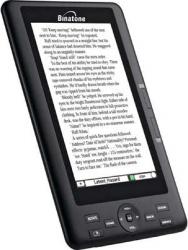 click image to enlarge
It is 21x13x1cm and weights 305grams. It comes with a leather book style wrap over case that weights 105grams.
The viewable screen is 13.5x8.5cm and in a reasonable sized (normal reading) font this gives twenty lines per page and in this font it's between 40 and 42 characters per line when viewing in portrait mode. In landscape mode this changes to fourteen lines at around characters per line, I will explain how to do this in a bit.
It is possible to listen to music either through headphones/earbuds or using the quite good internal speaker while reading.
So now onto the controls and even after using it for a while I still fins the up and down control difficult as I always seem to go to up and down on the ubiquitous five position joystick at the base and these are volume up and down only.
The right side of the top has the page forward and backward controls which also double as up and down. The rest of the controls are below the screen.
Designed in a > O < display with Rotate, Home and Read on the left of the ubiquitous 'O' joystick that has the enter key as its centre with volume up at the top and volume down at the bottom while left and right do the expected action. To the right the '>' are back, zoom and menu. Surely having the volume up and down elsewhere with page up and page down replacing them on the joystick or is this just my peculiar way of thinking.
Along the bottom edge are the connections, mini USB, micro SD, DC input and 3.5 audio output. The on/off button is on the right top edge of the unit. The inside of the cover has a place to store a full sized SD card, I assume it's for any SD holder for whatever micro SD card you might insert in the unit. Finally the back of the case has a small circular hole cut in it so the internal speaker sound output is not muffled by the caseing of it.
So having told you of poisoning of the controls what's it like to use. I found there is less than hours of use between charge (remember this a conventional display) the screen is quite good with printed characters being sharp and clear, you can change the font and indeed the size of the text. In bright lights the screen is somewhat reflective.
It does support a range of formats but beware of DRM problems for some, you are warned that the manifest.xml must not be deleted as this stores your rights to display your book. The User Guide is quite good and runs to 48 pages.
In my tests it only seems to recognise MP3 files for music. As far as video it states that 'H.264 and MPEG-4 formats' are supported certainly I have some files with MP4 extensions it will not play. My biggest surprise is that it does not support .JPG files with the size of screen what better way to show of those family photos to all. Why have a colour capable unit that shows video but not still images?
If you do not want an eInk unit where you can read almost for ever as the only thing that uses battery power then this could be a solution. MP3 sounds reasonable, the videos it would play were acceptable but why no JPG playing ability?
Doing my Internet searches found the Read Me by Binatone at a best price of £99.99 from the link below.
http://www.argos.co.uk/static/Product/partNumber/5010112/Trail/searchtext%3EBINATONE.htm
http://www.binatonetelecom.com/ but certain links including the Read Me Colour are currently broken