Tom Tom XL Live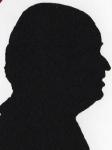 Often as part of my tests of a Satellite Navigation system I take it for a ride on a bus or train, sometimes both. It gives you a chance to see exactly what is shown on the screen and indeed this can be extremely interesting.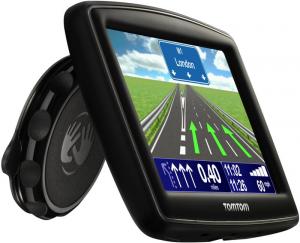 In this case I did neither as I could initially find no way to turn off (or even reduce the volume of the speaking voice) and without this ability I would be very unpopular on either mode of transport. Only later did I find the preference screen that only seems to appear before any route planning is started. However luckily I was a passenger for two long journeys in a friends car where I could see the unit at work without distracting the driver who was even able to tell me why he chooses to go a different route to that suggested on one of the journeys.
During my own tests I often changed routes just to see how quickly it recalculated the route when you changed from the planned route and I found it was very efficient and made little if any audible complaints. It realises in most cases you know best when you leave the route that it planned for you, even on the occasions that you don't.
It is 12x7.5x4cm including the fixing that should work on almost any near flat surface. The base has a mini USB socket that means should it be required you can charge the unit from a PC. However this socket also has a lead to go to the more normal cigar lighter socket found in almost all cars today. The only other control on the unit is an on/off button on the top of the unit. All other controls are via touch screen on the unit. This to me means you need to know and understand the device and how it operates before you use it for real when driving.
In theory you should only listen to the clear instructions when driving and I am pleased to say it uses yards. 'In 400 yards turn left' followed by 'turn left' when you arrive. Very clear and I suspect only in a very few cases can any confusion exist.
However people do also view the screen and this is exactly the reason why dummy runs (such as bus and train) are important so any look is a glance only as when driving the road is where you must be looking. Any strange or unusual icon on the screen is an accident waiting to happen. In fact it is possible to turn off the map display once a predetermined speed is reached.
I was very happy with the satellite location as even within my office it found my location with a minute of being turned on. This device actually has 2GB of internal memory.
Once I worked out the possibilities I loved this device. However I hated the tiny useless three language User Guide and the fifteen pages in English told you little of any use apart from a range of diagrams to help you mount it.
When you delve things like the petrol price guide can save you serious money by just going a few miles out of your way. Should you breakdown and be lost not only does a single tap on the correct option tell you the name of the road you are on but also give you map reference very useful when deep in the country. In fact there is a whole page of screens Phone for Help has Emergency Services, AA Breakdown, Nearest Police Station, Nearest Doctor and Nearest Hospital. This leads to a second page, Nearest Public Transport (this seems to list only Railway Stations), Nearest Car Repair, Nearest Dentist, Nearest Pharmacy or Nearest Vet.
The other options are Drive to Help, Walk to Help, Where Am I, First Aid Guide and Other Guides.
Read their website for details of TomTom Traffic, Local Search, TomTom Safety Cameras & Weather info.
With a decent manual this would be a great product and I happily offer it for a highly commended. Doing my Internet searches found the TomTom XL Live at best price of £172.49 including free delivery from first link.
http://www.amazon.co.uk/gp/product/B0024NL1H2?ie=UTF8&tag=gadge0a-21&linkCode=as2&camp=1634