Projecting A Versatile Image

The EH-TW480 is a portable HD-ready cinema projector targeted at the home user. It provides high quality bright images even in daylight and, with features such as automatic vertical keystone correction, it is simple to set up and use. Consequently, despite it being in Epson's "Home" range, it could well have a wider application.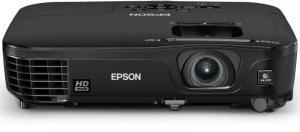 click image to enlarge
It is a relatively small unit, black in colour, weighing 2.3kg. Roughly 30 x 23 x 8 cm it is provided with a padded case with shoulder strap but more of that later. When not in use, a cover can be slid across to protect the lens. Known as the A/V mute slide, it can also be used during projection to hide the image and mute the sound.
The projector is a HD-ready 720p, 1280 x 720 LCD unit having a 2,800 lumen output and a claimed contrast ratio of 3000:1. Consequently, it provides a bright image under virtually all conditions together with good contrast and resolution. The unit has been designed for a projection distances ranging from about 1 metre to 10 metres. Hence, it can equally well be used in a small room or a reasonably sized hall. However, in the latter case, with an image that could be over 20 feet across it would be necessary to dim the lights or draw the curtains.
As the connectors and controls are clearly marked there isn't really any need for any instructions for the basic functions as well as the more advanced ones accessed via the Menu button.
On the rear there is the power socket and a full range of input connections plus a Kensington security slot. It offers versatile computer connectivity. As well as standard VGA monitor, HDMI, S-video there are the coaxial connectors for composite video and L/R audio plus type A and B USB ports. One can also run slideshows directly from images in JPG and other formats stored on a USB memory stick without the need of a computer.
Adjacent to the power button on top of the machine is the Source Search button. Hence, once connected and switched on, the projector will automatically search the input ports to see which is active. Then, with an image on the screen the height of the image can be set using the adjustable drop-down foot and then the manual horizontal keystone lever to obtain a suitable rectangular image (vertical keystone distortion is dealt with automatically) prior to using the zoom and focus controls to get the required image.
Although the case is a good fit for the projector, it has a front pocket which, one assumes, is intended to hold the 4.5metre mains cable, the remote control and anything else such as a monitor or HDMI cable. This I found totally inadequate and so would expect to use a separate bag for these accessories. Nevertheless, this is a minor complaint regarding a projector the does its job and is easy to use.
The list price of the EH-TW480 is £549 and the lamp, replacement cost £151.31, has a stated durability of 4,000 or 5,000 hours in normal or economy modes respectively. However, at about £440 on Amazon, it is much more attractively priced and so will be within the budget of many more people.