3M MPro150 business pocket projector

Published Apr 27, 2010 Author
petew
Review controls
For those of you that were introduced to corporate presentations in the form of acetate slides and permanent markers things have come a long way.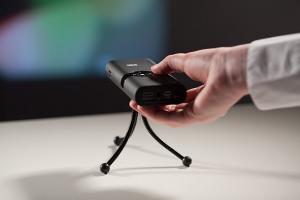 click image to enlarge
Am I showing my age? Many were the important presentations where I lovingly drew multi-colour slides with charts and text ready to slip onto an overhead projector. That projector in itself was an innovation - as is this new little marvel from 3M the MPro 150.
Acetate was seen off in the corporate field with the advent of laptops and then with bulky projectors that would plug directly into the VGA port. While giving a much more professional image these projectors were not without fault. Many is the meeting that has started late while a group of usually well paid people huddled around an unknown projector trying to get it to work with your laptop, or just getting the laptop to recognise this foreign device!
Technology and miniaturisation come to the rescue with the 3M MPro 150. I've seen other small 'consumer' projectors aimed at those with iPods, but this is the first product I've used aimed squarely at the corporate market and to be honest I love it - I just wish these had been around during my own corporate days!
Firstly it's size. If you want to visit a client to make a sales pitch the last thing your smooth presentation needs is a hiccup at the beginning while you work out why your laptop can't find their projector. While many a sales person has hefted around the traditional projector on their travels having such an object hanging from your shoulder hardly does the cool smooth business suit any favours.
This 3M product measures 130x60x25mm and weighs a mere 160 grams - allowing it to slip unobtrusively in your jacket pocket without leaving an obvious bulge! Traditionally of course you'd need to also carry your laptop with you along with suitable cables to connect the two devices. While this is still an option, and in some cases a necessity, the MPro 150 offers an alternative.
Instead 3M have built into the projector some quite sophisticated software which includes the ability to read and display a variety of file formats including Microsoft Office Word, Excel and - most importantly - PowerPoint. If video plays an important part in your pitch then common MP4, AVI and MOV formats are supported, although not Microsoft's proprietary WMV.
Audio playback is provided through two small internal speakers. While the sound quality is good the volume was quite low. Fine for maybe 3 or 4 people. Any more than that then you can connect to external speakers via a standard 3.5mm jack.
Files can be loaded onto the systems internal 1GB memory via USB. If that's not sufficient room for your masterpiece then there's a microSD card slot.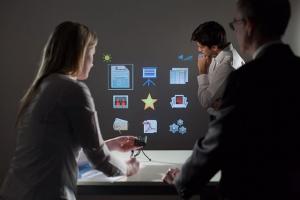 click image to enlarge
Power is provided by a built-in battery with a claimed 90 minute life from a full charge. In use I managed to exceed this figure. A power adaptor is included in the package but with a full charge you're unlikely to have to carry that with you on your travels.
My first test (at the insistence of my daughter!) was to watch a DVD through the video-in. With a completely darkened room we made the image as large as we could and still keep good playback. After the film I was curious so measured the image - an impressive 62" - a significant improvement on the claimed maximum of 50", but I will stress that was in a completely dark room.
While an impressive home video machine this isn't the target audience! In a more business frame of mind I loaded a collection of files onto a microSD card and slotted it into the MPro. I managed to view Microsoft Word, Excel and PowerPoint documents with no problems. The only limitation for presentations was that animations and slide-builds don't work. Basically for portability (and coolness) keep your presentations simple and you can ditch the laptop!
The projector comes with a range of cables and a mini tripod. The cables provided allow connection to a laptop or to standard composite video sources. Further adaptors can be purchased separately to allow connection to proprietary source such as Apple's iPod/iPhone range.
One of the strengths of this device is it's smalls size and light weight. Ironically this can also be a problem when connecting to cabled sources - the cables themselves make it very easy to tip the projector over and on a few occasions I managed to send it crashing to the floor. Take care!
The 3M MPro 150 is an ideal product for the mobile business or sales person needing to make regular presentations to small groups of people. Although it can connect to a laptop it is best used stand-alone. I would have very much liked to have this in my possession ten to fifteen years ago!
The official price of the 3M MPro 150 is £349.99, although I've found it available from Amazon for only £271.80 including free delivery.
To promote theie new product 3M have a dedicated web-site - mobile-u where the are currently running a competition to win £500 worth of shopping vouchers. Be quick though the competition finishes at end of April!.