Two USB Gadgets from Brando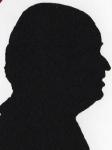 Here I am looking at two of Brandos more whacky gadgets. First what looks like a Hamburger but it is a hand warmer and massager. Second what looks like a largish mouse (not the rodent) but is a card reader with a memo taker.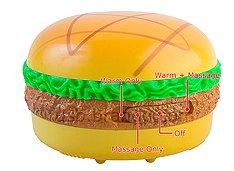 USB Burger Hand Warmer and Massager
While you cannot claim any real 'medical' powers for this device it is fun. Imagine a lightly browned burger bun with a burger inside and then a rather garish bright green thick layer of lettuce and that is it but don't stop reading now as it does have a couple of uses.
It is 5cm tall and 8cm across. There is a USB lead and a four position control - neatly positioned 180degrees from where the USB enters – leftmost hand warmer mode, great as I type this as the heating is off and the temperature in my office is rather chilly. The singular hand is what it warms as only the top of the burger heats up so clasping it in your hands will only warm the one at the top. Position two is a slow speed massager and you still also have warmth from the top of the burger.
Position three is off. Position four gives a higher powered massager but no heat. The vibrations in this mode may have some ladies finding another use for the product.
Perhaps kitch is the best word to describe this product. I have certainly used the hand warmer and placed the massager on a sore shoulder and while I cannot say the shoulder is better the massaging effect felt quite beneficial at the time.
It is available from the link below at $12 (US) plus $3 (US) p&p whatever the size of the order.
http://usb.brando.com/usb-burger-hand-warmer-and-massager_p01283c050d15.html
USB Moody Card Reader with Erasable Memo Pad
It is 13x7x3cm and has a holder at the back end for the supplied 12cm long felt tip pen that has a foam piece at the back end to erase messages.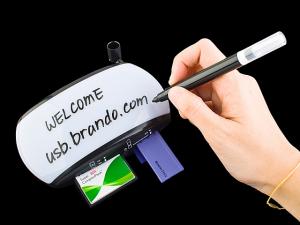 click image to enlarge
It has a one metre USB that is hard wired into the back of the unit.
The word moody in the title may be confusing without explanation. The top – where you write messages – is white but opaque and under this is a light that continually gives shades of red, blue, green and white in sequence, ideal for attracting attention which of course is what you want to do if you have left a message.
The writable area is 12x6cm and this should be big enough to say something like Ring Bill Smith at 4PM.
The right side is where the card slots are a total of four for Compact Flash (including Micro Drives), xD, Memory Stick and SD including mini SD and of course MMC.
If you insert more than one type of card in the unit it gets confused and you could get problems. The whole unit shows as a single drive letter in My Computer and providing you remove one type before inserting a second all should be well.
There is no way to turn the light off and I found this rather annoying and tended to push it out of sight which could mean that the important message does not get seen, surely a switch could be incorporated and you just turn the light on to attract attention.
It is available from the link below at $14 (US) plus $3 (US) p&p whatever the size of the order.
http://usb.brando.com/usb-moody-card-reader-with-erasable-memo-pad_p01144c031d015.html