Mio Digi Walker H610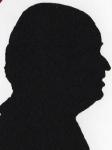 Review controls
I saw this unit at the Stuff Live show three months ago, it looked the ideal companion for those who walk around in unfamiliar areas. It can also work efficiently in a car.
Buy Now!
Available for £245 from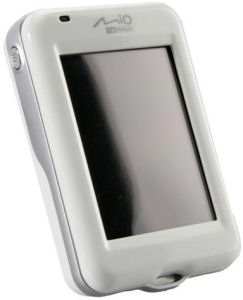 It is easily small enough to fit in the hand and I used it regularly for over four hours and even longer with only switching to standby mode on a single charge. It is 8.5x6x2 cm and weights only slightly over 100grams.
The base has an earbud socket and mini USB - for charging - as well as a neck/wrist strap anchor point. The left side has 'M' menu button. The top has the on/off button and a mystery white button, the back has speaker and a bung behind which is point for external antenna. The right side has SD/MMC card slot, reset hole and hold slider.
There is a Quick Start Guide the first ten pages are in English and do a reasonable job, far better than that with the C250 10/1/07. However an image of the unit and what the buttons do would be good. The unit comes with two DVD's and I finally found the user guide this did have illustrations that explained the 'M' key and what the mystery white button on the top does it allows you to change the cream facia for a decorated one also in the box, for the more trendy amongst us.
I was warned it needed a four hour charge and this I gave it - ignoring the green light after two hours - before doing anything. I quickly found the settings menu so changing to miles from the default kilometres. However the measurements seem rather strange as it uses feet rather than the more normal yards. So 'in half a mile' is fine 'in .2 mile' rather strange but liveable with - however 'in 300 feet' still seems strange even after all my tests.
If you turn on 'speed limit warnings' you should never be done for speeding as at exactly 30MPH it tells you that you are exceeding the speed limit. On most roads it seems to know what the limit is and even when it changes but it is not infallible as it insisted a fast dual carriageway was 30MPH when it was clearly marked 50MPH.
The only UK voice is male and while I prefer a female voice it was quite clear. In fact I detected a slight touch of irony in the voice when it says 'off route'. Should you prefer a US voice this also is male.
As regular readers will know as part of my tests I take it on a train journey or two as this gives you a chance to study the screen something you certainly should never do as a driver. There are two distinct modes a near clear screen mode - perhaps best when in pedestrian mode as you can see all of the 5.5x4cm display or 'Cockpit' mode where you have about a 4x4cm area visible the rest is taken by instructions such as the exit to take at the next roundabout and the road name etc. The visible 4x4cm area also has four small icons overlaid on the right edge of this area. The unit can only be used in portrait mode. Other various information details are shown at the base such as distance to go, ETA, current time etc these are configurable.
A large number of POI can be shown on a map such as Shopping, Entertainment, Sports & Recreation and Food & Drink to mention just four, again configurable according to a particular journey.
The SD slot can be used for playing MP3 or video, displaying photos etc and there are even four simple games included. If you are travelling alone - unless you are on a main road or motorway - for a long period I would not recommend any noise as it is important to hear the instructions.
Battery life was excellent - I got five hours on continuous use on one occasion - without external power. The standby switch off - quick press on on/off - saves power when you are in meetings etc and so realistically a full day out and about should be obtainable. Very few minus points apart from the Getting Started Guide and using feet rather than yards. A good unit ideal for a pedestrian and maybe even hiker as it has a compass among the extras found when you delve. I would always advise turning on a few minutes before starting as it takes a while to find satellites once you are moving.
Doing my searches found the Mio Digi Walker H610 at a best price of £245 from the first link below. This is still very new so the price may reduce as more vendors take it. This could be the pedestrians Sat Nav of choice.
http://www.amazon.co.uk/H610-Europe/dp/B000MPMZEM
http://www.mio-tech.be/en/gps-navigation-products-h610-overview.htm