Mio DigiWalker C250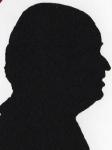 Review controls
This is a Satellite Navigation unit that specifically mentions a pedestrian mode so a lot of my tests were conducted while walking to various places.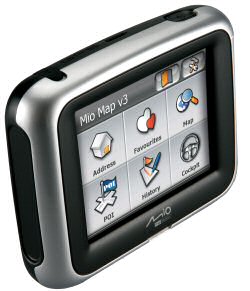 It is 11x8x2cm and weights only around 150grams. If you are going to use it outside a vehicle size and weight are both important. One of my first walks was perhaps my most eventful. It was raining so I of course had the unit well protected in a plastic bag and this meant that I could not use an umbrella. I ended up very wet and due to a glitch rather lost. Somehow a 'via' had been added and by the time I realised this I was further away from my destination than when I started. First lesson always have an idea yourself of what and where and do not blindly say 'sat nav' knows best.
I suspect the pedestrian mode was just a fop as of course the PDF file concentrates on telling you how to use the built in MP3 player. The getting stated sheet gives some basic advice but to do those nice little things like changing from the default of kilometres to miles is left to you find the 'correct' settings menu - there are at least two - and the other one will allow you to change language but not the measurement of distance. Of course all this - along with various other niggles - would be easily sorted with a manual - but at review time - there was not one to download from their website.
In car, van, bus use mode it works fine providing you are able to remember that 48 is really 30 (that was before I found the right settings menu) there are two main 2D views one using the full screen and the other called Cockpit view where the display screen is basically square with the strip down the left side used for a range of housekeeping tasks like the next turn and distance and a range of items like distance to destination and ETA etc and you choose which of these you wish to display.
Before I finish on Pedestrian Mode the unit should work for over four hours once fully charged - either in car or by supplied USB lead - but initially you need to charge it for eight hours ignoring the flashing orange light that changes to a solid green one when charged. Again this I am sure would be mentioned in the downloadable manual. However even after being told this I never got much more than two hours without dire warnings 'battery is too low' messages. I also noted that it tended to lose satellites more easily on low battery.
The 'plumbing in' fittings are as temporary as you wish and providing you have a 'cigar lighter' socket power should always be available. The display was clear and readable most of the time I preferred the full screen view but many options are available including 3D and night modes.
Planning a route can be as easy as entering a post code at the first address screen which is rather strangely got to by tapping 'Other City' you then get a chance to enter a full 7 digit postcode or the City you are going to. If you enter the postcode you will then be shown the street that this applies to and then you enter the number, very quick and efficient. Should you not know the postcode after the City you get another screen with a chance to enter the street name. In the case of a large City like London you need to enter the area first like Westminster and then the street and finally the number.
It does keep a log of the recent Cities and streets you have visited so should you then need to revisit an area it is somewhat quicker. Input to the touch screen is by finger but unless you are wearing gloves there are no real problems.
It does have various 'POI' including speed cameras but the onscreen speed limit sign should warn you and there is a tick box option to let the male voice warn you when you are exceeding it. For those who find a female voice more soothing you are out of luck in English. I see there are a total of 16 languages some I could not even tell you what they are but I would guess at Eastern European.
I would always suggest that you turn the unit on a couple of minutes before you start your journey as it finds satellites quicker while stationery.
I always like to take it on a train journey (voice off) just to see the amount of recalculation and how rigidly it sticks to train lines, it also gives a chance to check the number of satellites. Four or five seem to be satisfactory, the best I noted was eight while three does tend to be somewhat flaky.
Now if it had genuine four hour plus battery life then it could be useful for someone who visits a strange town and needs to walk around it. However for walkers you really need longer as 'cigar lighters' are few and far between on the moors and fells.
I am sure there will be a downloadable manual as there are for lots of other models, however as so many of the features are only available from certain screens you need it and it really should be on the CD.
http://www.mio-tech.be/en/gps-navigation-products-C250-overview.htm