Acer Aspire S3 Ultrabook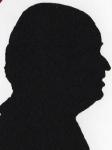 The buzzword around today is Ultrabook not simply because they are small and light but they also boot exceedingly fast. So what exactly does this Acer unit have to offer that will make you reach into your wallet to buy.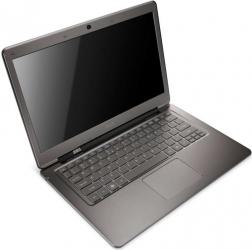 click image to enlarge
The Acer Aspire S3 ultrabook measures 32x22x1.5cm at the back and less than 1cm thick at the front, it weights 1330grams. With care it should power your needs for a full day.
With such thin sides the only place most connections can be is at the back. The right side has only an SD card slot. The front has nothing not even LEDs. The left side has an earbud jack. Both the earbud and SD card port are close to the back. The back has DC input, HDMI output and two USB2 ports, that's it so no Ethernet.
The viewable screen is 16.8x29.4cm giving the diagonal imperial measurement of 13.3inches. The default screen resolution is 1366x768. The whole unit is silver grey in colour and therefore fingermarks do not tend to show. The only part not silver grey is the hinge which is rubberised and matt black so again no nasty fingermarks are visible. The screen itself will go all but 180 degrees but this may be less with some oversize USB sticks. It has a 1.3GHz webcam built into the centre top of the screen surround which works rather well in most light conditions.
The only LEDs are on the hinge behind the keyboard where the on/off button is mounted. The keyboard has 84 keys with the alpha and numeric keys being full size at 1.5cm square with .4cm between keys in a row and .3cm between the columns. There is a 9cm strip in front of the keyboard with the 10.5x6.5cm trackpad having 11.5cm either side of it. This allows both wrists to rest in this area with no bias towards the left side as most have.
The SSD drive means rapid booting and shutting down which helps with battery life so no huge reliance on standby. It boots in 14seconds and shuts down in 6seconds. The hard disc is 200GB with around 160GB available. You can of course store data on memory sticks or even an external hard drive but do remember only two USB ports.
The processor is an Intel Core i7 running at 1.7GHz. You have 4GB of RAM and Windows 7 Home Premium 64 bit version installed. I found that the supplied wireless worked well with my router and was usable all over the house.
As with most Acer units there are trial (60 minute usage) of numerous games which should be enough to see if you like them.
There are other software products some full use items badged Acer such as Webcam software others trials such as McAfee anti virus. As this was not straight from the factory when it arrived I think it had some extra software on it so I am not going to be precise and the Acer website does not list exactly what software you get.
I liked the aluminium chassis which keeps the weight down but still give you a robust feel to the unit. I found a full battery charge (while off) took just over the hour. Two days with no use when I was away meant only 2% battery loss.
As always I viewed the odd movie these were downloaded – no optical drive – and both on the screen and then exported via the HDMI socket to a larger screen they were fine. Inbuilt speakers have the Dolby name.
Doing my searches found the Acer Aspire S3 at £939.66 with free delivery and note that it has 500MB disc and not the 200GB one supplied to me.
http://www.amazon.co.uk/gp/product/B005ZJTLE2?ie=UTF8&tag=gadge0a-21&linkCode=as2&camp=1634