A Budget Speaker Set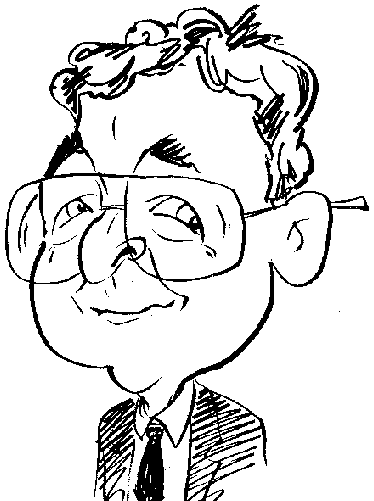 Speaker units have been a popular topic of late when I have been reviewing items. One such product is a speaker set from Sandberg.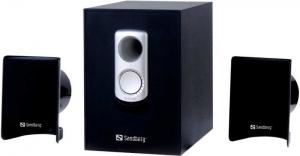 click image to enlarge
Described as being designed for use with a PC and MP3 player, the Sandberg Play Speaker Set is a 2:1 unit. It is made up of a subwoofer and a pair of satellite speakers. All three units are predominately black in colour. The speakers have gone with a reflective sheen while the subwoofer has a more subdued matte appearance. The box-shaped subwoofer, which is central to the system, has dimensions of 200 x 199 x 139mm (D x H x W) while the satellite speakers each measure 78 x 125 x 98mm (D x H x W).
The subwoofer appears to be constructed of plywood and features a black and silver plastic panel on the front of the unit with a control wheel for adjusting the volume level output. A power on/off switch and bass adjustment knob are located at the rear of the subwoofer and are the only other controls available with this product. The speaker units are constructed of plastic with a material covering on the front and top.
Permanently attached to the rear of the subwoofer is a power lead, measuring 135cm, with a 3-pin plug attached. There is also a second permanently attached lead thinner lead for linking to the chosen device that delivers the audio output. This lead measures 106cm in length and ends with a 3.5mm jack plug. A 3.5mm jack socket, clearly marked Output, sits between the previously mentioned bass adjustment knob and input lead for linking the satellite speakers to this system.
The satellite speakers are permanently joined together by a 105cm lead which can split into two strands. You can therefore adjust the placement of the two speakers in relation to each other and the subwoofer. So, for example, if you wanted the satellites to be 60cm apart then they would need to be positioned within 75cm of the subwoofer. Standing on a semi-circular base, which raises the output area off the ground, each speaker feels rather lightweight and, as a result, could easily be knocked over when coming into contact with a moving object. Some care needs to be taken with regards to the placement of these items.
As it states on the box, this product has a "simple and easy set-up". You just need to connect the subwoofer to a power source and attach the satellite speakers via the single lead. The less-than generous power lead does mean that you will need to position this module in fairly close proximity to an appropriate power socket and, as I have already alluded to, place the satellite speakers where they are unlikely to get knocked over accidentally.
Volume output from this speaker set is hardly likely to disturb your neighbours. When I attached my Sansa Clip+ MP3 player to this speaker set, I needed to set the volume level at the maximum in order to get a reasonable level of output. Switching to my iPod Classic meant I was able to reduce the volume setting by around 50% and still achieve the same level of output. For background casual listening sessions this speaker set is a reasonable performer. However you should not expect to get Hi-Fi quality for this product.
The satellite speakers contain a 2.25-inch driver with the subwoofer housing a 4-inch driver. This speaker system is rated at delivering 3 W RMS / 6 W RMS output with a frequency response of 60 Hz – 20 KHz and sensitivity of 83 dB. Sandberg has priced this budget speaker set at £18.99 and it's available from Amazon at a shade under that price at £18,66.