Office Hero 6.1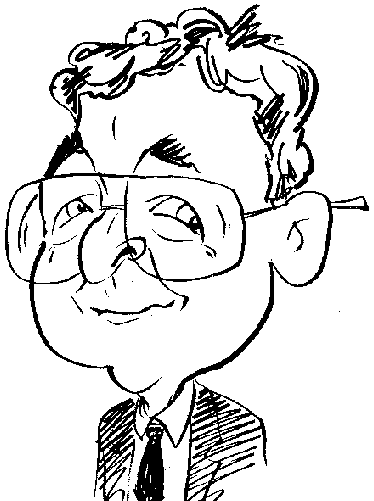 Review controls
Depending upon your view point, a hero could be a mythical character of old, a comic book creation with super powers, a member of the armed forces or just an "ordinary" person with special qualities.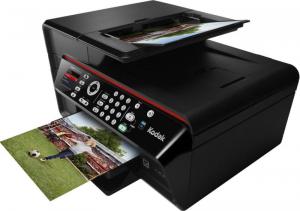 click image to enlarge
In the case of Kodak, a hero is one of the company's new range of multifunction devices designed for the home or small office. One of the models in this new series is the Office Hero 6.1 product. This particular model certainly catches the eye with its bulky appearance and dimensions of 465 x 420 x 255mm (W x D x H). The Office Hero 6.1 is a multifunction device that offers print, scan, copy and fax functionality with both ADF (Automatic Document Feed) and automatic double-sided printing. Also included in the mix are USB, WiFi and support for Cloud printing (not forgetting 3D prints).
The unit is predominately matte black in colour although some elements feature the finger smear collecting lacquered black effect. One of these areas is a sloping control panel, which could regularly come in contact with users' digits, that features a red trim along the top. I have to say that I would have been happier without this trim which I felt was a little on the garish side.
This sloping panel features a 2.4-inch colour screen which can display images stored on attached devices such as flash drives, provide menu options and any feedback regarding the current status for various activities. Arranged alongside this screen are dedicated buttons for copy, fax, scan and photo printing with a navigation wheel for moving between options plus back and home keys. A telephonic key pad comes next with monochrome, colour and power button plus a WiFi status light.
Positioned beneath this control panel is a port for USB or PictBridge connectivity plus slots for MS, SD, SDHC and MMC memory cards. A pair of jaws, which jut out, provide access for paper input with a capacity of up to 200 sheets of A4 paper. The paper path used by this product is U-shaped which ejects the paper on top of the input feeder. While the paper input feature can accept different sizes of paper, you are limited to loading a single size for each print run.
Mounted on top of the printer unit is an A4 flatbed scanner. This scanned provides the base for the ADF unit. This ADF feature can hold up to 35 sheets which can be automatically fed through the scanner and then passed to the printer for producing photocopies.
Setting up this multifunction device is meant to be straightforward and I am sure that for many this will prove to be the case. However I did encounter one major problem which has yet to be resolved. While there was no problem in inserting the black and colour cartridges into the belly of the unit, a difficulty arouse when I tried to install the supplied software on my regular work machine which I prefer using when testing printer facilities.
Despite running the installation on a number of occasions, each attempt resulted in the installation failing to complete its task. As a result I was unable to establish a WiFi connection or access any of the supplied software that comes with this product. By setting up a USB connection I was able to print documents. On advice from Kodak I have tried removing all elements connected to previous Kodak printers but the problem still exists. I could, however, install and set up a wireless connection using another system which does point the finger of suspicion at my work system being the source of the problem.
The scanner that forms part of the Hero 6.1 offers 2400dpi resolution and is capable of providing clear images. When used in conjunction with the inkjet printer, a full colour A4 photocopy was produced in 34 seconds. Using the ADF unit on top of the scanner, an 8-page text document was scanned and then printed out in 3 minutes 8 seconds. Rather surprisingly, the Hero 6.1 breaks this task up into two distinct operations. The first stage involves the automatic scanning of all eight pages which took 80 seconds. Once the scanning had been completed, the printing stage starts with a further 108 seconds being required to finish the job.
When printing documents stored on a computer, the Hero 6.1 print driver offers Draft,Normaland Best modes. Print speeds, using my started 101-word document either in monochrome or with some colour and a small image, can be seen in the following table. While you would probably not want to use Draft mode for important documents, either of the other two modes would be fine.
Kodak Office Hero 6.1

| | Draft | Normal | Best |
| --- | --- | --- | --- |
| Monochrome | 25 | 15 | 4.25 |
| Colour with image | 19 | 8 | 3.25 |
Printing images stored on a memory card or flash stick does not require any computer to be connected. You just insert the card or flash stick and select images using the LCD screen. Using this method I was able to print a full colour, borderless 10 x 15cm print in 39 seconds and an A4 print in 2 minutes 5 seconds. I also printed a sample 10 x 15cm 3D image which took 43 seconds. In all cases image quality was of an acceptable level.
It is also possible to set up the Hero 6.1 to receive images for printing from the Cloud. Apps are available for Apple iOS, Blackberry and Android devices. . Kodak includes in the box two pairs of cardboard, red/blue style glasses for viewing 3D images produced by the printer.
While emails have reduced the need for fax capability, some still require such functionality. If you fall into this category then the Hero 6.1 can send and receive faxes with the former mode making use of the ADF facility. A choice of black or colour documents is available.
Apart from the problems, still unresolved, with one system refusing to complete the software installation, I was satisfied with the performance of the Hero 6.1. It may not be the faster unit on the market but it delivers good quality images at a reasonable speed. At the time of writing, Kodak was advertising the Hero 6.1 at a price of £149.99. Replacement cartridges are available at £12.99 for black and £14.99 for colour. A combo pack containing a black and colour cartridge is priced at £21.99.
http://shop.kodak.co.uk/store/ekconseu/en_GB/pd/OFFICE_HERO_6.1_All-in-One_Printer/productID.235649500