Samsung NP900x3EB Ultrabook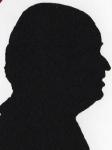 Review controls
Its not often the weight on something is the first thing I mention, this notebook is 1155grams and is also extremely thin. But it still has a 13.3inch screen and good connectivity. The only thing missing is an optical drive.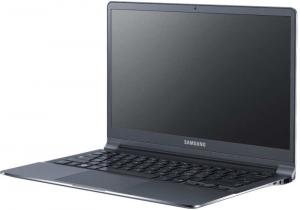 click image to enlarge
It is 31x21.5x1cm and that last figure the thickness is at the back, at the front it is only just more than half that.
Because of the extreme thinness some connections such as VGA, HDMI and Ethernet are made with the help of adapter cables (all provided). The left side has DC input, USB3 port as well as mini HDMI and Ethernet ports.
The front has nothing – not even LEDs – the back has only cooling ports this leaves the right side that has an SD card port which is let into the back of the unit a USB port as well as headset port and finally a mini VGA outlet.
The unit is very strong as the frame is metallic and finished in gun metal grey everywhere even on the screen surround which means virtually no fingermarks show. Even the screen is less reflective than most screens so better in sunlight.
Behind the keyboard is a 2.5cm strip that has two pinhole LEDs and towards the right the on/off button. In front of the keyboard is a 9cm strip. The trackpad is 9.5x7cm and is 9cm from the left and 12cm from the right.
The keyboard is 81 keys with the alpha keys being full sized with good spacing in between so great for those less than accurate typists like me.
Inside perhaps the biggest surprise is it has an SSD drive which means boot is 15seconds and shutdown is 10seconds. The one drawback is that it is small compared to most standard hard discs at only 128GB. You can of course attach external storage or use one of the numerous 'Cloud' offerings to store data should you so wish.
It has a core i5 Intel 1.6GHz processor and comes with 4GB or RAM, it runs Windows Home Premium 64bit version.
In heavy use I got around 3hours from a fully charged battery but that was with constant wireless use and in light use you should be able to increase that figure considerably. Recharge time while on was around 1% per minute. As always these items come in with updates done to a certain point as the hard disc is refreshed between each reviewer. I initially had 47 updates to do, the next day 5 updates and on day three 8 further updates, for the rest of my review period it was happy and the only nagging was from Norton.
Software provide is the standard Office Starter, some Cyberlink and Intel items as well as lots of Samsung utilities and some game trials from Wild Tangent.
The Windows Experience score is 5.6 This is made up of Processor 6.3, Memory 5.9, Graphics 5.6, Gaming Graphics 6.2 and Primary Hard Disc 7.3. Try rating your current computer and noting how long it takes to do the tests ten minutes and more is quite common, here all the tests were completed is less than two minutes, that give an idea of the systems speed.
The only real problem I can see is with hard disc space after various small deductions for things like Office Starter which is in its own hidden partition, Hibernation area and a Recovery section the space available on the 'C' drive is a tad under 93GB and 35GB of that is already used, so you have available only 57.4GB of hard disc space.
On the plus side it is fast, light and very thin. Doing my searches found it at £960.61 with free delivery.
http://www.amazon.co.uk/gp/product/B007PENK9C?ie=UTF8&tag=gadge0a-21&linkCode=as2&camp=1634
http://www.samsung.com/uk/function/search/espsearchResult?input_keyword=series+9+notebook&keywords=series+9+notebook