Earbuds from Marshall and Logitech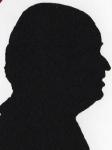 The first a name often coupled with expense and more normally with headphones rather than earbuds. The second a name that I associate mainly with speakers but they do of course also make earbuds amongst other items.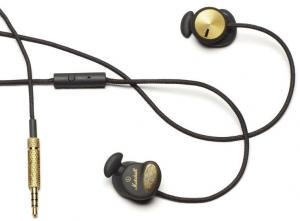 click image to enlarge
Marshall Minor
Not a flash back to the past in posh schools but a rather nice set of earbuds of course the fittings of them are gold plated.
The leads are 1,2metres long and feel rather like post shoe laces rather than plastic as the actual leads are coated.
You can use them as a microphone as well as the left bud incorporates a microphone 15cm down the lead. There is just over 32cm before the two leads join and then there is a clip to attach to a shirt or blouse, the lead ends with a fairly substantial 3.5mm plug.
It also comes with a 12cm extension that turns the three stripe plug into a two stripe for those few older systems that cannot accept the protected standard.
Sound quality was excellent as you would expect and the unit supports earclick where rather than the buds being different sizes the pads are, these come in small, medium, large and extra large. While the box comes in plain cardboard as soon as you open it a lift out motion makes it stand out, perfectly understated but still swish.
A simple fold out sheet covers instructions after use you start to see the quality, the cord for instance will not tangle, another nice simple feature making a simple product far from simple and these earbuds a pleasure to use.
The Marshall Minor in ear earbuds are available from the link below for £40.78 with free delivery.
http://www.amazon.co.uk/gp/product/B0040GJ394?ie=UTF8&tag=gadge0a-21&linkCode=as2&camp=1634
http://www.marshallheadphones.com/product/minor
Logitech Ultimate Ears 200vi
These also have a microphone so you can make and receive phone calls.
The lead is 1.2metres with the all important switch 20cm from the left earbud. In all close to 35cm before the two buds lead becomes one. The lead end with the three stripe gold plated plug 'r' shape, the plug itself is the same purple colour as the lead.
The buds are the in ear type and come in no less than five sizes. 'XXS', 'XS', 'S', 'M' and 'L'. These are the only ones I know with five sizes and I assume they cater for a lot of people with very small ears.
The box states that Seal and Ronnie Vannucci Jr from the Killers both call these their earbuds of choice.
The hard case provided will protect the silicon buds from possible damage in your pocket or purse.
Sound is a very subjective thing, while these appear to give a good all round sound I certainly enjoyed small group and solo sounds, the guitar came out well as did bass, in both cases I am thinking of acoustic versions of the instruments.
I tried the buds with iPods as well as a range of MP3 players and even a couple of audio systems they worked efficiently with all.
Doing my Internet searches found the Logitech Ultimate Ears 200vi at £25 with free delivery.
http://www.amazon.co.uk/gp/product/B0044GJ2MS?ie=UTF8&tag=gadge0a-21&linkCode=as2&camp=1634
http://www.logitech.com/en-gb/speakers-audio/earphones/devices/6677