Two Different USB Hubs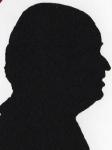 Here I am looking at two rather different USB hubs. The first is branded with the Highstar name and not only is a hub but also a memo pad and has a clock and temperature sensor. The second is far more normal both come from Brando in Hong Kong.
Highstar USB 4-Port Hub with Alarm Clock and Erasable Memo Board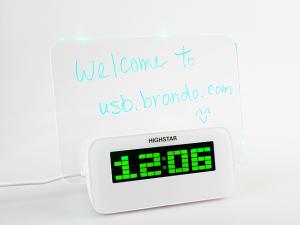 click image to enlarge
Not only is this a hub but also a clock a temperature gauge an alarm clock and an erasable illuminated memo pad.
It is 14x7x12cm overall size. Where the hub is at the back of the unit it is 9x2cm, at the front where the clock is 10.5x5cm. The illuminated Perspex is 14x10cm set 1.5cm behind the clock, a pen to write on the Perspex is included.
This is a USB2 hub and unless you set the clock at 90degrees to yourself then the ports will always have the Perspex between you and the ports. A nice idea but in this case a little flawed for ease of access of the USB ports.
Underneath is a battery bay for 3x'AAA' batteries that are required to keep the time and any alarm set if you turn off your PC. For setting the clock and alarm there are four buttons beside the battery bay on the base. This would have been a lot easier if the sample I was sent had instructions in English instead of Chinese, but trial and much error got things sorted.
It's a 12 hour clock with day and month as well as temperature. You can even set an alarm time should you wish.
The illuminated memo pad is the gimmick something like 'the boss will ring you at 4.30' should be easily noticeable.
The backlight colour of my unit was blue but I see that green is also available; this same colour is set as the clock display. The hard wired USB lead is .8metre which should be enough to reach from the rear of most PC's.
The USB 4-Port Hub with Alarm Clock and Erasable Memo Board is available from the link below for $19 (US) + $3 (US) shipping whatever the size of your order.
http://usb.brando.com/usb-4-port-hub-with-alarm-clock-and-erasable-memo-board_p02596c039d15.html
USB 3 Square 4-Port Hub
Unusually for Brando this only has one use that is to transfer data very quickly. However if you only have USB2 ports it works at that speed.
It is 6.5x6.5x1.8cm and weights only 52grams. Most recent PC's will have a USB3 port. Note I said 'a' USB3 port. I think of all the PC's and notebooks I have reviewed since USB3 was available only two have had more than one USB3 port.
A hub running at that speed is therefore important for the fast transfer of lots of data. It is still not a good use of resources to hang a mouse or keyboard off a USB3 port. Stick with external Blu-ray or DVD drives and hard discs.
The rear is where the supplied upstream (to notebook or PC) lead is inserted. Either side has two well spaced USB3 ports.
A simple device to do one job, there is no point in having USB3 ports running at USB2 or slower speeds so get a USB3 hub to take full advantage of the possible speed of data transfer.
The USB 3 Square 4-Port Hub is available from the link below for $22 (US) + $3 (US) shipping whatever the size of your order.
http://usb.brando.com/usb-3-0-square-4-port-hub_p02571c039d015.html