Canon All-in-One MG8250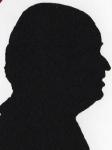 Review controls
The Canon Pixma MG8250 is a sleek black unit that will look good in any office. I fear however it will need to be discretely placed in most homes unless the 'lounge police' are of Goff persuasion. It is a lovely six ink offering that prints, scans and copies.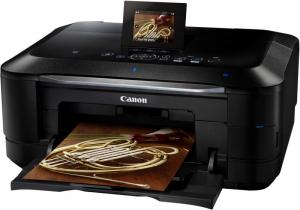 click image to enlarge
When closed it is 44.5x38x18cm, double the last figure the height if you have A4 paper in the rear photo printing recess. Add 11cm to the middle figure the depth when the paper output tray opens automatically for printing. The overall weight is 10.7kilos so it would need to be a strong – and wide – shelf to take the weight of this unit.
The screen is on top so great for viewing from above but it can be raised from the base to nearly vertical if required. The landscape flatbed needs only to be raised a few centimetres to insert or remove even books but it is heavier than most as all the units controls are inset in it, great for keeping a book or magazine in place on the flatbed.
Apart from the normal print, scan and copy that an All In One can do this can also print onto CD's and scan 35mm slides. It can be connected via Wi-Fi, Ethernet or USB all from the same install process just select when prompted.
The main paper tray is in the front at the base and can hold around 100 sheets with ease. Paper from this or the rear 'sit up' photo paper tray are delivered face up from the output tray that is above the main input tray. Paper should be inserted face forward in the rear tray and face down in the main tray. You can do rather good automatic duplex from the main tray.
The unit features an intelligent touch system there are a whole row of touch buttons in front of the ubiquitous five position joystick which is itself in front of the 7x6cm TFT screen, however only the three soft buttons – between the TFT and the joystick and two of the joystick controls (up and down) are normally visible. The only control not touch is the on/off button that is to the left of everything described but this is still on the scanner lid. There are wo blue LED's on tell you the unit is on and the second to denote that wireless is an option.
There are multiple card ports behind a door at the front right of the unit; mains cable enters back left and USB or Ethernet back right.
I still find it a little disconcerting when my test figures are better than those claimed by manufacturers, printing the nonsensical 200 word document came in at 16PPM while the more normal 1500 word document spread over four pages was only slightly slower at 14PPM. In theory it confirms your tests in practice remembering years of manufacturers 'ambitious' claims it makes you doubt them.
When it came to colour on A4 photo paper I again doubted my figures this time because they were slower than I expected at around 210 seconds either for an A4 borderless print or four near 15x10cm images using the superb Canon Photo Print software. Those tests were always in best mode, however the claimed 20 seconds for a 15x10cm print is possible but this is in standard mode, my question is why print an image on photo paper in anything but best mode, surely speed is less important than quality where a picture is involved.
Scanning can be to an image, a PDF, to OCR in colour or monochrome, the actual simple page scan takes around 15 seconds.
Copying does not require the PC to be switched on or connected; you can enlarge or reduce as well as a raft of other options all from the interface on the TFT. A straightforward 100% copy took around 15 seconds in monochrome and about 20 seconds in colour.
Doing my Internet searches found the Canon Pixma MG8250 for £187.05 with free delivery first link below.
http://www.amazon.co.uk/gp/product/B00400OK2U?ie=UTF8&tag=gadge0a-21&linkCode=as2&camp=1634
www.canon.co.uk/For_Home/Product_Finder/Multifunctionals/Inkjet/PIXMA_MG8250/index.aspx?specs=1