Acer H243H Gives An Improved View

The World Cup has raised the profile and interest in High Definition TV which, in turn, has increased the attraction of monitors with a 1920 x 1080 resolution. The Acer H234H is a quality 24inch monitor that meets this demand as well as giving the user a reasonable degree of future proofing.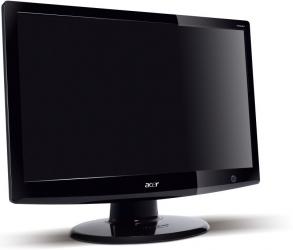 click image to enlarge
The downside of the move to widescreen monitors is that they have a relatively low vertical resolution so that, while the resolution of an old "square" 17inch monitor is 1280 x 1024, even a 20inch widescreen one will typically be 1600 x 900. This is definitely a retrograde step and so one has to go to a larger screen to get adequate vertical performance. The 1920 x 1080 of the H243H is a definite improvement and, although it occupies a fair amount of desk space, its slim-line design with a polished black bezel appears to minimise this and it would not even look out of place in a living room.
This impression is enhanced by the illuminated touch controls on the lower right hand end of the bezel adjacent to the power on/off button. The white annotations stand out, but not obtrusively, from the polished bezel. One of the important features is the eColor Management whereby, as well as user-defined settings, the user can choose from a number of standard scenarios. In addition to the "Standard" mode which is the best compromise there are Text, Graphics and Movie modes which can be selected at the touch of a button. Hence, whatever you are doing, you can select the appropriate mode.
As well as VGA and DVI connectors it also has a HDMI connector with HDCP (High-bandwidth Digital Content Protection). Having HDCP allows the monitor show protected HD TV programs or HD images from Blu-Ray discs. While I have only been able to test the H243H with standard movies, and not HD, it has the resolution, brilliance and high contrast required for full HDTV. In this context its 2mS response time should be more than adequate for gaming and watching action movies.
The built-in speakers are adequate for normal usage even though, obviously, external speakers may produce a better sound.
As can be seen from the above, its large size and performance makes it ideal for multi-media applications. Furthermore, it is extremely good and practical as a computer monitor. Two pages of a Word document can be displayed full size side-by-side; while it is far easier to visualise the finished work as one is able to display a double-page spread when using a DTP program. Similarly, it enables one to see a larger number of cells in a spreadsheet at any one time. The added size was also a bonus when doing anything more than just simple photo cropping and editing and I found the colour rendition excellent.
In addition to the tilting desk mount it incorporates standard VESA mount so that it can easily be mounted on the wall or on an advanced desktop mount.
Its size and the range of facilities, including HDCP make the Acer H243H a very practical monitor which should provide a good degree of future-proofing. For those who can find the space for it on their desk, at about £180 it could be a sensible outlay that will not become outmoded for a number of years.
However, the H243HX which incorporates webcam, microphone and USB hub could be an equally good buy at around £200 pounds.