Eee PC 1000HE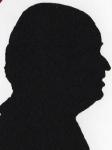 Another rather nice small PC from Asus marketed under the Eee brand. The main difference that will encourage you to look at this unit is that it has a claimed 'working day' of battery life, this is stated to be 9.5 hours. With the average battery life of most notebooks around 3 hours this is huge.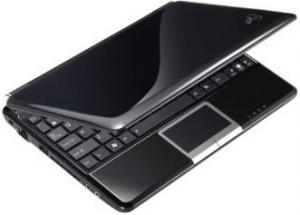 The Asus Eee PC 1000HE measures 26x19x4cm and weights 1.4kilos. The battery does not protrude but is slightly thicker than the rest causing a very slight forward slant but this just aids typing. The screen dimensions are 22x13cm giving the notional diagonal measurement of 10.1inches. The display size 1024x600 and the screen (hurrah) is not that reflective meaning in bright light you do not get that much reflection. Finally on the screen surround there is a 1.3MP webcam built in.
The left side has the Kensington lock connector, Ethernet and USB ports as well as microphone and headphone sockets. The right side has power input, two USB ports and a card slot. The front edge has four pin hole LED's and the back is clear.
The 82 key keyboard has full size alpha and numeric keys with the other keys being smaller. There is a 7.5x5.5cm trackpad mounted just left of centre in front of the keyboard and five silvered rod buttons behind the keyboard.
It comes with Windows XP Home and booting is a very acceptable 50 seconds while shutdown is 18 seconds. I was very pleased that after being turned off fully charged for over two days the battery still registered 99%. No doubt you are aching to know if I ever got 9 hours, well no but only because I was not will to ruin my eyes, have no doubt it is possible (see link at the end) however I achieved 6¾ hours when it suspended itself at 4% battery left. This was a continuous light use test with lots of word processing (no Internet) and many a game of Freecell but the screen was constantly in use.
I used it with both Ethernet and wireless the latter will of course drain the battery. You will see that it does not come with a CD/DVD drive but I installed a copy of AVG anti virus from a memory stick as I do not like using the Internet without protection.
Software provided includes InterVideo WinDVD, Skype, Star Office 8 and Adobe Reader 8. Unlike a lot of notebooks I get to review this one was brand new and therefore I had a little bit more to do before first use but around 30 minutes from taking it out of the box had me surfing the WWW with all the settings that I prefer.
The latest Atom processor is slightly faster at 1.66GHz, it comes with 1GB of RAM that is adequate for Windows XP. The hard disc is split between 'C' and 'D' with 82.8GB on the former and 61.2GB on the latter, I make that 144GB, somehow Asus call that 160GB this I assume is the normal 1000 v 1024 debate but in larger drives this becomes a stupidly large differential. However here Asus allow you to have Eee Storage online where you can store 10GB of data and access it from anywhere.
The wi-fi is 'N' (rather than B/G) and it also has Bluetooth as well as wireless. I liked this Netbook and it has now taken over my favourite band from the Medion, it is however rather more expensive.
So who might this appeal to, anyone who needs to travel on public transport where both weight and size are important. Not having an optical drive is not the stigma it was. A 1GB memory stick can easily hold the contents of a CD-ROM so installation of software is not such a problem.
I found the keyboard very typeable and while the keys are the same size the tampered sides make them feel bigger. The non reflective screen is a must for those using the unit outside as reflections are always a problem otherwise.
Doing my Internet searches found Asus Eee PC1000HE at a best price of £376.24 from the first link below.
http://www.amazon.co.uk/gp/product/B001UE8LAG?ie=UTF8&tag=gadge0a-21&linkCode=as2&camp=1634
I found Asus Eee PC1000HE at available for $387.53 including free delivery from Amazon on the first link below.
http://www.amazon.co.uk/gp/product/B001UE8LAG?ie=UTF8&tag=gadge0a-21&linkCode=as2&camp=1634
http://uk.asus.com/products.aspx?l1=24&l2=164&l3=0&l4=0&model=2792&modelmenu=2
Finally the link that could well let you get 9.5 hours on a single battery charge.