Belkin USB Anywhere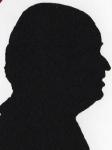 On the face of it a device that most of us could have made use of at sometime or other, however is it all that it seems to be?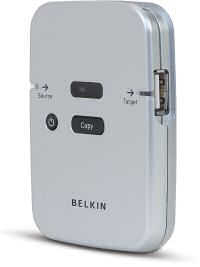 My first use of it was using the mains adapter, a small test of 10 files a total of 8MB this took just on a minute transferring from a USB hub with a Smart Media card in it and the destination a USB pen/stick drive. Of course if you have not got a PC nearby then you may not have mains power either.
The unit is 8x5.5x1.3cm and weights far less than 50grams even with the optional 3x 'AAA' batteries inserted. The front has an 'on' button with a 'copy' button beside it and above this an LED that displays green on the left side when copying and either a green or red tick on the right side when finished, you don't want the red tick as this means failure. There are also two small LED's on opposite sides to show a device is connected.
The left side has a standard USB socket with a small slider button above that allows you to copy items from just the root or full. The top has a small reset button and input for the DC input. The right side has a standard USB socket. Remove a panel in the back to insert the optional 3x 'AAA' batteries.
The source device is always inserted on the left and the target on the right. If you do not have or use a hub then the standard mini USB to USB lead provided with a lot of cameras can be used. Transfer on images in this way can allow a smaller camera card to be used as once images are transferred to a pen/stick drive you can delete them on the camera and then continue to take new images.
Files on the reception device will always be put into a directory starting with dir0000. I think this could be most useful in the battery use mode, I did have some success using rechargeable batteries but only when nearly fully charged. Once they had some life removed you were more likely to see the dreaded red tick.
The main reason for this is that rechargeable batteries are 1.2volts while ordinary ones are 1.5volts. So even though rechargeable are reusable they work less reliably.
I transferred 61MB worth of files - surely more than most would normally use this sort of device for - from one pen/stick drive to another. The transfer took 270 seconds hardly quick but all my transfers that ended with the green tick were reliable.
The only drawback I can see is that there is no selection method, so all files or all files on the root are transferred. The transfer will also fail if there is not enough room on the target device. According to the small manual it is possible to press the reset button part way through transfer and files copied will stay on the target device. I never succeeded with this option and anyway I have little idea why you would want this as how do you know what files have been copied?
As regular readers know I take a number of photos at a regular jazz night and often people say can they have one of such and such. Now regulars bring a pen/stick drive and providing I have not taken many images the transfer is easily done in the interval.
If you travel around and need to transfer files when a PC or notebook is not available then this gadget could be for you.
I have seen the Belkin USB Anywhere advertised from as little as £9.39 from the first link below.
http://www.amazon.co.uk/gp/product/B000CRPTCA?ie=UTF8&tag=gadge0a-21&linkCode=as2&camp=1634
I have seen the Belkin USB Anywhere advertised for $24.94, including shippin, from from the first link below.
http://www.amazon.com/gp/product/B000AR8V4U?ie=UTF8&tag=gadge0a5-20&linkCode=as2&camp=1789
The Belkin USB Anywhere is available for €38,03 from the first link below.
http://www.amazon.fr/gp/product/B000CRPTCA?ie=UTF8&tag=gadge04-21&linkCode=as2&camp=1642