Small Coffee Machine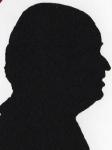 As you get older you do not function properly in the morning without your first fix of coffee. If it requires little or no effort to make it so much the better. Here a small device that you're only real input is to switch it on and insert a pod.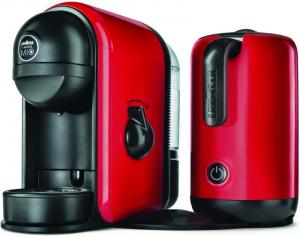 click image to enlarge
The smell as it mixes with the water in the cup – you did put the cup under the output – is enough to start your senses maybe even open your eyes and see that it's not raining so maybe today will not be that bad after all.
It is 30cm deep, 14cm wide and 25cm tall, these figures are with power lead inserted and water in the rear tank so these are figures ready for you to stagger in and push the power button. If you really are that unable to function it might be an idea to put a pod in the dispenser and a cup under the output the night before as well as making sure there is water in the reservoir.
From pressing the button to start the brewing took just over a minute till the smell becomes intoxicating.
While this machine can brew for all sorts of coffee an Expresso is probably the pick me up of choice and just how strong is your choice as you have to turn a knob to stop the water dispensing into the cup.
For those who prefer a softer start to the day you could either add milk or purchase a milk frothing machine to give you a nice Cappuccino or Latte.
This is the ideal machine for the single person as it is small, it really would not suit an office as the water reservoir holds only enough for around three or four cups depending on how strong you have your coffee.
There is a drip tray which should remain dry if you wait a few seconds for the last few drips to come through. The tray can be removed if your cup is large or you use a mug but for either of those some of the other blends of coffee would be used and it is probably at least mid-morning before a mug could be contemplated.
Cleaning is minimal just really the odd wipe over and care when removing the water tank to refill should keep a clean work surface.
The old pod needs to manually removed to replace with another ready to go.
Once the water is heated then the next coffee should be delivered in slightly less time.
Italians know about coffee and this unit comes with a selection box of twelve pods they are Caffe Crema Lungo Dolcemente, Cremosamete Dek, Deliziosamente, Le Selezioni Magicamente, Appassionatamente, Intensamente and Le Selezioni Divinamente. My spell checker only liked Crema in that last sentence. Apart from knowing Dek means decaffeinated and crema is something like cream I might have said anything, but blame it on the box and only then me for not speaking Italian.
The instruction book is in four languages and describes everything well enough for anyone to set it up apart from early in the morning when no one should attempt anything new.
My machine was Blue, but I see White and Red are also available. The link below has it for £119.99.
https://storeuk.lavazza.com/a-modo-mio/coffeemachines/minu-caffe-latte-red/prod7066.html