iTunes Version 7....Apples music management software

Published Jan 7, 2007 Author
bigal
Review controls
Apples much maligned music management system...worth a look?
Over the last few years I have owned a few different digital audio players (DAP) , ranging from Rio, Sony and most recently Apples iPod.
Manufacturers usually supply music management software (MMS) with their players, or the player acts as a mass storage device and works with Windows Media; so whatever player you choose it is a given that you must become fully conversant with the software supplied.
MMS's should be user friendly and this is where iTunes has fallen down in the past. It is has been called too quirky, too unreliable and Apple has been accused of being somewhat selfish in its refusal to allow any other MMS to recognise music ripped into its formats.
With iTunes 7 all but the last concern have been addressed. Apple will in, all probability, never allow other MMS's to get past its music's digital rights management protection, but I guess that's fair enough. Apple have the lions share of the DAP market so they call the tune..excuse the pun.
When you purchase an iPod, Apple invites you to visit their website and download iTunes; in reality of course its the only way you can load music onto the iPod (unless you use Rockbox MMS on it, and Rockbox does not work on 5th gen iPods) so you are obliged to download iTunes whether you like it or not. The other option is Red Chair software, but in my opinion this is inferior to the latest version of iTunes.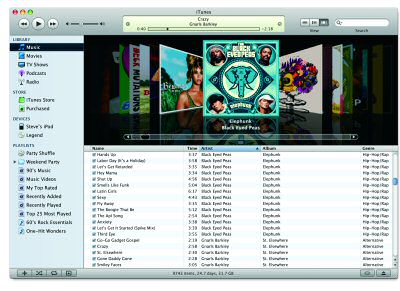 Courtesy of Apple
There are three ways of loading music onto the iPod with iTunes. Manually via CD's, purchased via iTunes online shop and importing music already on your PC. However iTunes will not import protected WMA tracks, so anything on Windows Media Player is useless unless you purchase third party software that converts WMA to MP3 format...Tunebite for instance.
Once the music is on iTunes and you have synchronised your iPod everytime you connect the player to the MMS the new content is automatically loaded onto the iPod. together with any downloaded artwork (album covers etc)
If you purchase songs or albums from iTunes (and you are constantly encouraged to do this by the software) then the album artwork usually comes with the track, otherwise you can simply cut and paste the artwork from an online source. I have found Google images to be the best for album cover artwork.
The neat features of iTunes 7 are the different views you can utilise to see your music. Either as a list (boring), individual lists of album covers with the tracks listed (better) or best of all as single album covers which you flick through with your mouse, it's like having your vinyl collection in front of you to finger through.
You can create playlists, either through iTunes or on the go, and control playback of tracks which include some rather neat tricks like fading tracks into each other DJ style, picking starting and stopping points of your tracks (so you can select the best bit of a long track and play that on its own) and utilize gapless playing when tracks run into each other (like on long instrumentals.) You also have several EQ and visualizer options to go at.
The iTunes store also gives you the opportunity of downloading music videos, podcasts and audiobooks. The US iTunes site also has some movies for sale and it can't be long before the UK site follows suit.
Download formats that iTunes allow are Apple lossless, MP3 between 16 and 320kps, AAC, AIFF and WAV, but all are protected against being exported to other MMS's, iTunes store downloads all come at 128kps.
So what's the cost of items from the store. Tracks are 79p each, most albums average at around 7.99 and videos are £1.89. But there is no subscription option like with Napster, and iPods do not work with Napster.
The only wireless audio device that will currently stream protected iTunes tracks is their own AirPort Express.
Overall I am fairly happy with iTunes and if Apple became a little more friendly with their content sharing it would really sweeten the deal.
As it stands if you have an iPod, there is only one choice of MMS, but Apple does do its best to make the choice as easy as possible.